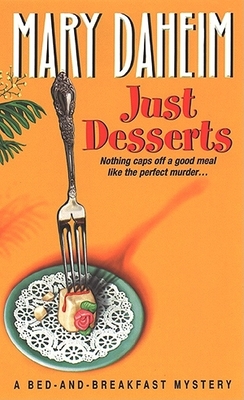 Just Desserts (Bed-and-Breakfast Mysteries) (Mass Market)
Avon, 9780380762958, 256pp.
Publication Date: July 1, 1991
* Individual store prices may vary.
Description
When the garishly grotesque clan of wealthy carpet-sweeper magnate Otto Broadie sweeps down upon Judith McMonigle's Hillside Manor Inn, it looks like there'll be a wild night of drinking, dining, and fortune-telling in the offing. But when their soothsayer-for-hire Madame Gushenka drops dead after someone douses her tea leaves with bug killer, harried hostess Judith and her irrepressible cousin Renie are left to clean up the mess. One of the Brodie bunch would dearly love to sweep the Madame's murder under the rug, however, and that might mean eliminating the nosy Ms. McMonigle as well. But with the help of her one-time beau, policeman Joe Flynn, Judith is determined to rattle the dust off some closeted family skeletons, in order to coax a killer out of hiding before coffee is served.
About the Author
Mary Richardson Daheim is a Seattle native with a communications degree from the University of Washington. Realizing at an early age that getting published in books with real covers might elude her for years, she worked on daily newspapers and in public relations to help avoid her creditors. She lives in her hometown in a century-old house not unlike Hillside Manor, except for the body count. Daheim is also the author of the Alpine mystery series, the mother of three daughters, and has three grandchildren.
or
Not Currently Available for Direct Purchase