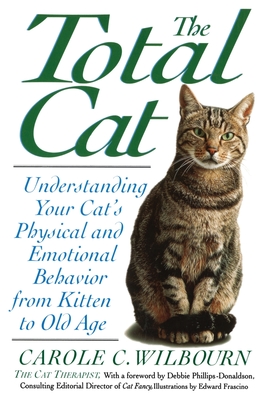 The Total Cat
Understanding Your Cat's Physical and Emotional Behavior from Kitten to Old Age
Paperback

* Individual store prices may vary.
Description
Hailed as "the founding mother of cat psychology," Carole Wilbourn has received international attention for her feline expertise. With her emphasis on treating the total cat, the "Wilbourn Ways" to a healthy cat follow the guiding principles of the ancient Greeks -- a sound mind in a sound body. Wilbourn explains how to talk to your cat -- and how to listen. She provides tools that can help you recognize, understand, and respond to your cat's body language, vocalization, and facial expressions -- the keys to your cat's behavior.
Wilbourn addresses specific situations that may develop with even the best-cared-for feline. You will learn how to detect the underlying causes to your cat's problem behavior -- whether yours is antisocial, self-destructive, or an overly aggressive "attack cat" -- and you'll receive invaluable guidance on everything from your cat's eating disorders and litter box aversion to its phobias and depression.
Whether you're introducing a new cat or person into your feline's environment or caring for an abused refugee, The Total Cat provides the insights necessary for understanding your cat at every stage of its life.
Harper Paperbacks, 9780380790517, 272pp.
Publication Date: October 3, 2000
About the Author
A cat therapist for more than twenty years, Carole C. Wilbourn has published four books on cat psychotherapy. She co-founded the first cat hospital in New York City in 1973, and she's logged more than 100,000 miles making house calls to patients throughout the world.
She writes a "Cats on the Couch" column for Cat Fancy and sees appointments at Westside Veterinarian Center and the Animal Clinic of New York. Her numerous Magazine and many more. She also serves on the board of the New York Humane Society and resides in New York City.