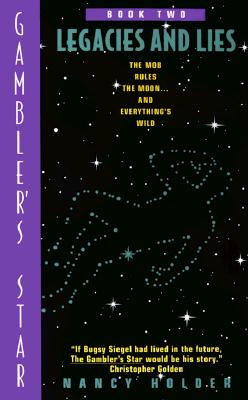 Gambler's Star, Book Two: (Mass Market)
Legacies and Lies
Harper Voyager, 9780380793136, 304pp.
Publication Date: March 9, 1999
* Individual store prices may vary.
Description
Opportunitist Deuce McNamara considers himself The Man in the Moon. The former bagman for the Borgioli clan on Moonbase Vegas works every angle he can and comes up with aces. Now the right-hand man to Hunter Castle, the wealthy businessman and owner of the new casino, Darkside City, Duece spins in an orbit of riches and power. But when a powerful explosion rips apart Castle's fabled spacecraft, Gambler's Star, Deuce's world spins out of control. The lunar St. Valentine's Day-style catastrophe has rubbed out the top echelons of the Six Families that control the Moon and the Castle himself, leaving Deuce in the middle of the bloodbath of all bloodbaths. As the families savagely pursue vendettas and the rebels of the Moonsider Liberation Front launch a campaign of terror, it is up to Deuce to intervene, stop the slaughter and prevent puritanical Earthsiders from imposing a tyrany of decency on the Moon.
About the Author
Nancy Holder is an award-winning, New York Times bestselling author of over 80 novels and 200 short stories. She has received 5 Bram Stoker Awards from the horror writers Horror Writers Association, and a Scribe Award from the International Association of Media Tie-in Writers. She is the former Vice President of the Horror Writers Association and currently serves on the board of trustees. Her Buffy novel, The Angel Chronicles, hit number 2 on the amazon bestseller list. She has written or co-written over 4 dozen Buffy and Angel projects. She divides her time between Washington state and Italy. 
or
Not Currently Available for Direct Purchase