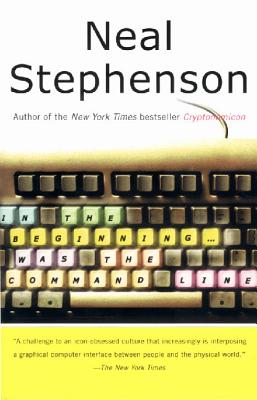 In the Beginning...was the Command Line (Paperback)
William Morrow Paperbacks, 9780380815937, 160pp.
Publication Date: November 9, 1999
* Individual store prices may vary.
Description
This is "the Word" -- one man's word, certainly -- about the art (and artifice) of the state of our computer-centric existence. And considering that the "one man" is Neal Stephenson, "the hacker Hemingway" (Newsweek) -- acclaimed novelist, pragmatist, seer, nerd-friendly philosopher, and nationally bestselling author of groundbreaking literary works (Snow Crash, Cryptonomicon, etc., etc.) -- the word is well worth hearing. Mostly well-reasoned examination and partial rant, Stephenson's In the Beginning... was the Command Line is a thoughtful, irreverent, hilarious treatise on the cyber-culture past and present; on operating system tyrannies and downloaded popular revolutions; on the Internet, Disney World, Big Bangs, not to mention the meaning of life itself.
About the Author
Neal Stephenson is the bestselling author of the novels Reamde, Anathem, The System of the World, The Confusion, Quicksilver, Cryptonomicon, The Diamond Age, Snow Crash, and Zodiac, and the groundbreaking nonfiction work In the Beginning . . . Was the Command Line. He lives in Seattle, Washington.