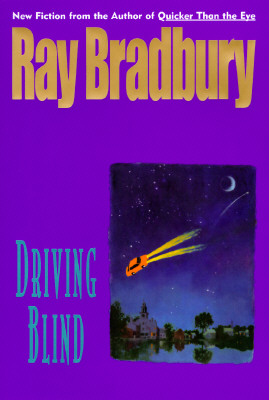 Driving Blind
Hardcover

* Individual store prices may vary.
Other Editions of This Title:
Mass Market (10/1/1998)
Description
Over the course of a long and celebrated career, Ray Bradbury has traveled many roads: cruising down country highways that wound through the unseen heart of small-town America; exploring rutted backwoods paths that led to dark and dangerous places; racing at mach-speed along shimmering celestial turnpikes as limitless and exciting as the unbound imagination. The Dean of American storytellers, Bradbury cherishes the worlds he envisions through his windshield. And with incomparable skill and an infectious wonder undiminished by years, he shares what he sees--so that we might also appreciate the view.
DRIVING BLIND is a stunning new collection of short fiction--the first since the publication of Bradbury's critically acclaimed Quicker Than the Eye. With a steady hand on the wheel, the master once again transports us to remarkable places-- and to warm and achingly familiar destinations of the heart, revealed as we've never seen them before in the brilliance of day or gloom of night. Here are unforgettable excursions to the fantastic, glorious grand tours through time and memory-- interspersed with strange, unexpected side trips to the disturbing and eerie--where surprises are waiting around every curve and just beyond each mile marker.
These are new roads we have never ridden before--sprawling interstates and lush, twisting rural routes fraught with dangers and delights of all manner, shape and substance. With Ray Bradbury in the driver's seat, the journey promises to be a memorable one. Come along and enjoy the ride.
William Morrow, 9780380973811
Publication Date: October 1, 1997
About the Author
In a career spanning more than seventy years, Ray Bradbury, who died on June 5, 2011 at the age of 91, inspired generations of readers to dream, think, and create. A prolific author of hundreds of short stories and close to fifty books, as well as numerous poems, essays, operas, plays, teleplays, and screenplays, Bradbury was one of the most celebrated writers of our time. His groundbreaking works include Fahrenheit 451, The Martian Chronicles, The Illustrated Man, Dandelion Wine, and Something Wicked This Way Comes. He wrote the screen play for John Huston's classic film adaptation of Moby Dick, and was nominated for an Academy Award. He adapted sixty-five of his stories for television's The Ray Bradbury Theater, and won an Emmy for his teleplay of The Halloween Tree. He was the recipient of the 2000 National Book Foundation Medal for Distinguished Contribution to American Letters, the 2004 National Medal of Arts, and the 2007 Pulitzer Prize Special Citation, among many honors.
Throughout his life, Bradbury liked to recount the story of meeting a carnival magician, Mr. Electrico, in 1932. At the end of his performance Electrico reached out to the twelve-year-old Bradbury, touched the boy with his sword, and commanded, "Live forever!" Bradbury later said, "I decided that was the greatest idea I had ever heard. I started writing every day. I never stopped."
or
Not Currently Available for Direct Purchase