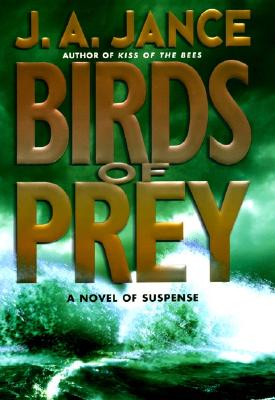 Birds of Prey (Hardcover)
William Morrow & Company, 9780380974078, 390pp.
Publication Date: March 1, 1901
Other Editions of This Title:
Digital Audiobook (7/4/2016)
Mass Market (6/26/2012)
Mass Market (1/8/2002)
Paperback (2/20/2001)
Compact Disc, Abridged, Abridged (1/1/2004)
* Individual store prices may vary.
Description
A survivor of childhood trauma, two marriages, twenty hard years with the Seattle Police Department, and the bottle, Jonas Piedmont Beaumont has spent far too much time trolling the darker waters of human nature. In the wake of a devastating professional tragedy, he has decided, at long last, to pull the pin. But there is no safety in semiretirement for a man who, long ago, chose to make a violent world his home.
Temporarily at leisure, Beau has agreed to chaperon his newly wed grandmother on her honeymoon cruise to the Gulf of Alaska. His time aboard the Starfire Breeze is meant to be an enjoyable diversion, a respite to allow some deep psychological wounds a chance to heal in the bright sun and clear, crisp northern sea air. It also places him squarely in the sights of a feisty group of middle-aged divorc&eacutees.
But death is everywhere, even at sea. Beau's brief idyll is abruptly shaken when one of his new admirers, mysteriously disappears -- and is shattered when a security videotape shows her taking a fatal fall overboard. Like it or not, the burden of investigating a heinous crime is once again on Beau's shoulders. And this one is carrying the seasoned detective into uncommonly dark and dangerous waters. Adrift a thousand miles from home, J. P. Beaumont suddenly finds himself submerged in a terrifying conspiracy that, if allowed to proceed unchecked, could have disastrous consequences, not only for Beau and his shipmates, but for the future of the world they all hope to return to.
In Birds of Prey, J. A. Jance masterfully demonstrates her rare and winning ability to combine riveting suspense, intelligence, vivid color, and poignant humanity into one magnificent whole. No one in her field is better at exploring mortal strengths and frailties while exposing the complex shades of evil that can shroud the human soul.
or
Not Currently Available for Direct Purchase