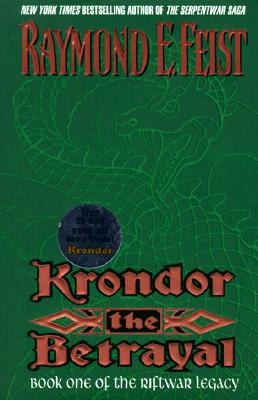 Krondor the Betrayal [With CD-ROM Game and Demo] (Hardcover)
Avon Books, 9780380977154, 376pp.
Publication Date: November 1, 1998
* Individual store prices may vary.
or
Not Currently Available for Direct Purchase
Description
Set in the time between the author's popular RiftWar novels A Darkness at Sethanon and Prince of the Blood, Krondor The Betrayal brings back some of Feist's most memorable characters--Squire James (a.k.a. master thief "Jimmy the Hand"), Prince Arutha, Pug the Magician, and others--and introduces readers to a slew of colorful, never-before-encountered heroes and villains. This is a sweeping and relentlessly exciting epic that tells the story of an invasion of Midkemia by a deadly army of trolls and renegade humans commanded by dark elves and an evil magical cabal--and chronicles the courage of a traitor elf who rejects the brutal plans of his warlike kind to cast his lot with the targets of their aggression. Master fantasist Feist works his singular magic once again, as he thrills us with the breathtaking exploits of daring defenders who stand firm and strong against the horrifying devastation aimed at the beating heart of their kingdom.
Advertisement