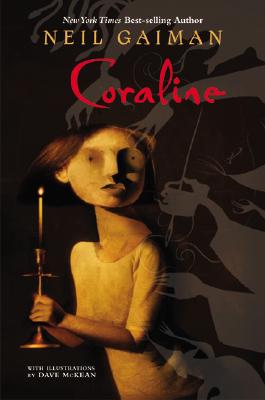 Coraline (Hardcover)
HarperCollins, 9780380977789, 176pp.
Publication Date: July 2, 2002
Other Editions of This Title:
Digital Audiobook (11/10/2003)
Paperback (4/24/2012)
Paperback (5/5/2009)
Paperback (8/29/2006)
Paperback (5/4/2004)
Hardcover (6/24/2008)
Paperback, Spanish (5/28/2009)
CD-Audio (10/28/2008)
Prebound (4/24/2012)
Prebound (4/24/2012)
Paperback, Vietnamese (3/1/2011)
Paperback, Vietnamese (9/1/2014)
Paperback, French (1/3/2003)
Paperback (10/28/2008)
Paperback, Spanish (6/15/2010)
Library Binding (7/1/2008)
Hardcover (11/1/2008)
* Individual store prices may vary.
Description
The day after they moved in,
Coraline went exploring....
In Coraline's family's new flat are twenty-one windows and fourteen doors. Thirteen of the doors open and close.
The fourteenth is locked, and on the other side is only a brick wall, until the day Coraline unlocks the door to find a passage to another flat in another house just like her own.
Only it's different.
At first, things seem marvelous in the other flat. The food is better. The toy box is filled with wind-up angels that flutter around the bedroom, books whose pictures writhe and crawl and shimmer, little dinosaur skulls that chatter their teeth. But there's another mother, and another father, and they want Coraline to stay with them and be their little girl. They want to change her and never let her go.
Other children are trapped there as well, lost souls behind the mirrors. Coraline is their only hope of rescue. She will have to fight with all her wits and all the tools she can find if she is to save the lost children, her ordinary life, and herself.
Critically acclaimed and award-winning author Neil Gaiman will delight readers with his first novel for all ages.
About the Author
Neil Gaiman is the #1 New York Times bestselling author of more than twenty books, including Norse Mythology, Neverwhere, and The Graveyard Book. Among his numerous literary awards are the Newbery and Carnegie medals, and the Hugo, Nebula, World Fantasy, and Will Eisner awards. Originally from England, he now lives in America.
Dave McKean is best known for his work on Neil Gaiman's Sandman series of graphic novels and for his CD covers for musicians from Tori Amos to Alice Cooper. He also illustrated Neil Gaiman's picture books The Day I Swapped My Dad for Two Goldfish, The Wolves in the Walls, and Crazy Hair. He is a cult figure in the comic book world, and is also a photographer.
Praise For Coraline…
"Gaiman's tale is inventive, scary, thrilling and finally affirmative. Readers young and old will find something to startle them."
— Washington Post Book World

"Coraline is by turns creepy and funny, bittersweet and playful…can be read quickly and enjoyed deeply."
— San Francisco Chronicle Book Review

"A modern ghost story with all the creepy trimmings…Well done."
— New York Times Book Review

"A magnificently creepy story…Coraline is spot on."
— Kirkus Reviews, Starred Review

"Gaiman's pacing is superb, and he steers the tension of the tale with a deft and practiced narrative touch."
— Bulletin of the Center for Children's Books

"Ladies and gentlemen, boys and girls, rise to your feet and applaud: Coraline is the real thing."
— Philip Pullman, The Guardian

"The most splendidly original, weird, and frightening book I have read, and yet full of things children will love."
— Diana Wynne Jones

"It has the delicate horror of the finest fairy tales, and it is a masterpiece."
— Terry Pratchett

"An electrifyingly creepy tale likely to haunt young readers for many moons."
— Publishers Weekly (starred review)

" Walk through the door and you'll believe in love, magic, and the power of good over evil."
— USA Today

"So wonderfully whimsical that readers of all ages will hungrily devour itCoraline is destined to become a classic.
— Globe and Mail (Toronto)

"Chilly, finely-wrought prose, a truly weird setting and a fable that taps into our most uncomfortable fears."
— Times Educational Supplement

"A deliciously scary book that we loved reading together as a family."
— Orson Scott Card

"Beautifully spooky. Gaiman actually seems to understand the way children think. "
— Christian Science Monitor

"A truly creepy tale. Beware those button eyes!"
— Family Fun Magazine