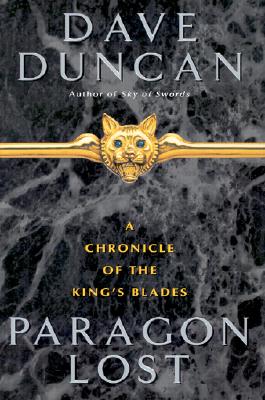 Paragon Lost
A Chronicle of the King's Blades
Hardcover

* Individual store prices may vary.
Other Editions of This Title:
Mass Market (7/29/2003)
Description
Over time, many legends have emerged from the shadows of Ironhall. Now one new Blade towers above his brother in arms: Sir Beaumont. His heart is the strongest and most pure and his mind is as keen, swift, and accurate as his sword. A glorious future seems predestined for young Beau on the day he sets out in the service and company of the elderly Lord Wassail, on a mission to escort King Athelgar's chosen bride to her new home and royal wedding.
But the road is not to be an easy one, for it winds through the harsh and frozen domain of the evil Czar Igor, who cows his subjects with a steady diet of terror, brutality, and the blackest of magics. And when polite diplomacy gives way to horror and blood, Sir Beaumont becomes one of the tragedy's prime victims -- though he lives still.
Stripped of his sword and banished from the Blades in disgrace, he faces a grim future as a homeless pariah, a creature to be shunned and despised. But redemption can come from unexpected directions and in unrecognizable guises. Approached in secret by the legendary Durendal, now Grand Master of the Order, the dishonored paragon is offered one last chance to win back his weapon and his place among his brother Blades. But to do so, he must ride back through the icy gates of Hell ... to battle the Devil himself.
Harper Voyager, 9780380978960, 368pp.
Publication Date: October 1, 2002
About the Author
Dave Duncan is an award-winning author whose fantasy trilogy, The Seventh Sword, is considered a sword-and-sorcery classic. His numerous novels include three Tales of the King's Blades -- The Gilded Chain, Lord of the Fire Lands, and Sky of Swords; Paragon Lost, a previous Chronicle of the King's Blades; Strings, Hero; the popular tetralogies A Man of His Word and A Handful of Men; and the remarkable, critically acclaimed fantasy trilogy The Great Game.
or
Not Currently Available for Direct Purchase