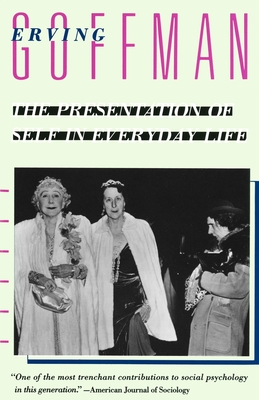 The Presentation of Self in Everyday Life (Paperback)
Anchor Books, 9780385094023, 272pp.
Publication Date: May 20, 1959
Description
A notable contribution to our understanding of ourselves. This book explores the realm of human behavior in social situations and the way that we appear to others. Dr. Goffman uses the metaphor of theatrical performance as a framework. Each person in everyday social intercourse presents himself and his activity to others, attempts to guide and cotnrol the impressions they form of him, and employs certain techniques in order to sustain his performance, just as an actor presents a character to an audience. The discussions of these social techniques offered here are based upon detailed research and observation of social customs in many regions.
About the Author
Erving Goffmanwas born in Canada in 1922. He received his B.A. from the University of Toronto in 1945 and then studied at the University of Chicago, receiving his M.A. in 1949 and his Ph.D. in 1953. For a year he lived on one of the smaller of the Shetland Isles while he gathered material for a dissertation on that community, and later he served as a visiting scientist at the National Institute of Mental Health in Washington. Mr. Goffmanis the author of several articles and book reviews which have appeared in such periodicals asPsychiatryand theAmerican Journal of Sociology.Heis also the author of, among other works, The Presentation of Self in Everyday Life, Asylums, Interaction Ritual, andStigma"
Advertisement