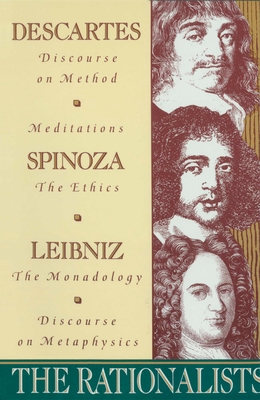 The Rationalists: Descartes: Discourse on Method & Meditations; Spinoza: Ethics; Leibniz: Monadology & Discourse on Metaphysics (Paperback)
Descartes: Discourse on Method & Meditations; Spinoza: Ethics; Leibniz: Monadology & Discourse on Metaphysics
Anchor Books, 9780385095402, 480pp.
Publication Date: August 23, 1960
Description
Founded in the mid-17th century, Rationalism wasphilosophy's first step into the modern era. Thisvolume contains the essential statements ofRationalism's three greatest figures: Descartes, whobegan it; Spinoza, who epitomized it; and Leibniz, who gave it its last serious expression.
About the Author
Rene Descartes (1596-1650), the French philosopher and mathematician, is generally regarded as the founder of modern philosophy. Benedict de Spinoza (1632 1677) was born in Amsterdam, where his orthodox Jewish family had fled from persecution in Portugal. Expelled from the synagogue for his heterodox philosophy, he identified God with nature and denied the possibility of an act of creation. Gottfried Wilhelm Von Leibniz(1646 -1716) German philosopher, mathematician, and political adviser, important both as a metaphysician and as a logician and distinguished also for his independent invention of the differential andintegralcalculus."
Advertisement