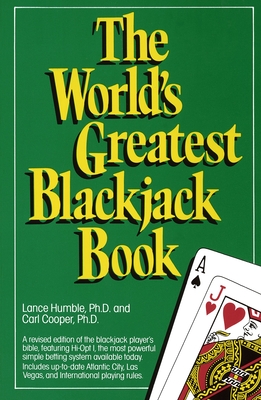 The World's Greatest Blackjack Book
Paperback

* Individual store prices may vary.
Description
A revised and updated edition of the blackjack player's bible with complete information on the odds, betting strategies, and much more

"A significant contribution to the literature of blackjack . . . I recommend the book to beginners as well as experts."—Edward O. Thorpe, author of Beat the Dealer

This is the most comprehensive guide ever published on blackjack, the only casino game in which a knowledgeable player can gain an advantage over the house. It features the Hi-Opt I, the most powerful simple betting system available today, and has been revised and updated to include the rules of play in Atlantic City as well as the latest information on international playing rules. No matter what your level of experience, it will teach you how to make the most  money possible playing your cards.

You'll learn:
• How to pick a casino, with ever major casino in the world evaluated by name
• How to pick a dealer
• How to keep from being cheated
• How to play the cards, using the Basic Strategy to your best advantage
• How to win at home and at "Las Vegas nights"
• How to keep from being banned once you are a winner
Crown, 9780385153829, 432pp.
Publication Date: March 17, 1987
About the Author
Lance Humble, a professional blackjack player and coauthor of The World's Greatest Blackjack Book, began his career by teaching horseracing in a course at Toronto's York University known as Aspects of Gambling. He has since taught several other classes on blackjack and horseracing, as well as various other casino games.