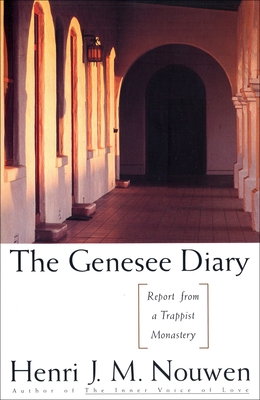 The Genesee Diary
Report from a Trappist Monastery
Paperback

* Individual store prices may vary.
Description
During his seven-month stay in a Trappist monastery, Henri Nouwen had a unique opportunity to explore crucial issues of the spiritual life and discover "a quiet stream underneath the fluctuating affirmations and rejections of my little world." Nouwen participated fully in the daily life of the Abbey of the Genesee in upstate New York -- in work and in prayer. From the early weeks in the abbey -- dominated by conflicting desires and concerns -- to the final days of Advent, when he finds a new sense of calm expectation, Nouwen never loses his critical honesty. Insightful, compassionate, often humorous, always realistic, The Genesee Diary is both an inspiration and a challenge to those who are in search of themselves.

"The Genesee Diary beautifully lifts the heart and mind to God."
--Christianity Today

"This is an extraordinary account of a man seeking inner peace and total commitment to God... a fine portrait of cloistered life, a beautifully written account of one man's soul-searching."
--Publisher's Weekly
Image, 9780385174466, 224pp.
Publication Date: February 20, 1981
About the Author
Henri J.M. Nouwen was a Catholic priest who taught at several theological institutes and universities in his home country of the Netherlands and in the United States. He shared the final years of his life with people with mental and physical disabilities at the L'Arche Daybreak Community in Torronto, Canada. He died in 1996. He authored many books on the spiritual lfie,including Reaching Out, The Wounded Healer, and The Return of the Prodial Son