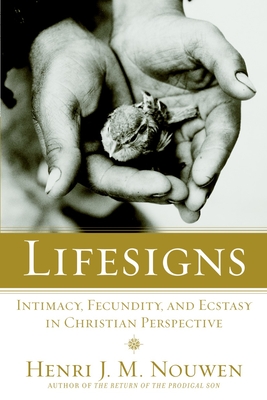 Lifesigns: Intimacy, Fecundity, and Ecstasy in Christian Perspective (Paperback)
Intimacy, Fecundity, and Ecstasy in Christian Perspective
Image, 9780385236287, 128pp.
Publication Date: January 23, 1989
Description
-You cannot read Lifesigns and not be moved... This book will undoubtedly find its place among the classics of twentieth-century literature.-
--Grand Rapids Press
The inspirational writings of Henri Nouwen have touched millions of readers all over the world. Much beloved as a lecturer, spiritual guide, and especially as an author, he communicated a profound message of hope that finds great resonance in today's world.
In his now classic work Lifesigns, he explores what he saw as three of the most vital aspects of his ministry. The first of these is the Gospel invitation to intimacy, which Nouwen describes as communion with God and relationship with others. The second is the call to fecundity, exhorting us to be open to a fruitful life of change and growth. And the third, the experience of ecstasy, extends the Gospel promise -that your joy may be full.- Inspired by L'Arche, the worldwide network of communities where handicapped people and their assistants try to live together in the spirit of the Scriptures, Nouwen shows how these three elements offer the essential key to a life free from the domination of fear and filled instead with hope and love.
About the Author
HENRI J. M. NOUWEN was a Catholic priest who taught at several theological institutes and universities in his home country of the Netherlands and in the United States. He shared the final years of his life with people with mental and physical disabilities at L'Arche Daybreak Community in Toronto, Canada. He died in 1996. He authored many books on the spiritual life, including Reaching Out, The Wounded Healer, and The Return of the Prodigal Son.
Praise For Lifesigns: Intimacy, Fecundity, and Ecstasy in Christian Perspective…
You cannot read Lifesigns and not be moved . . . This book will undoubtedly find its place among the classics of twentieth-century literature." —Grand Rapids Press
Advertisement