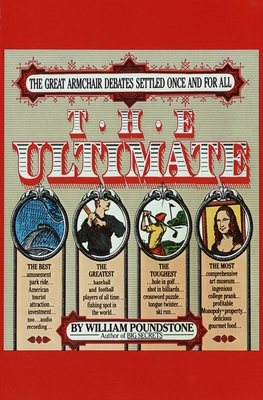 The Ultimate: The Great American Arguments Settled Once and for All (Paperback)
The Great American Arguments Settled Once and for All
Main Street Books, 9780385242707, 336pp.
Publication Date: October 1, 1991
Description
A humorous trivia book that has the official and final word on what qualifies as the coolest, the best, the toughest, the most, and of course the ultimate. Readers will enjoy learning which rollercoaster is the best, and what was the most ingenious college prank. Those are only a sample of this trivia book that will entertain all readers.
About the Author
William Poundstone studied physics at the Massachusetts Institute of Technology. He is the author of The Recursive Universe, about information theory and physics, and Labyrinths of Reason, an exploration of paradox in science. The author of such popular books as Big Secrets, The Ultimate, and Prisoner's Dilemma, he has also written for Esquire, Harper's Magazine, SPY, and other periodicals. Poundstone lives in Los Angeles.
Advertisement