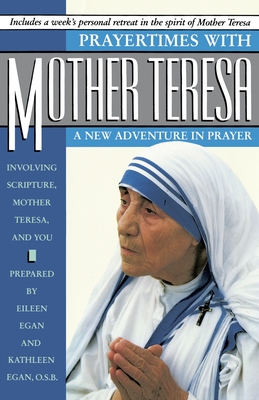 Prayertimes with Mother Teresa: A New Adventure in Prayer Involving Scripture, Mother Teresa, and You (Paperback)
A New Adventure in Prayer Involving Scripture, Mother Teresa, and You
Image, 9780385262316, 180pp.
Publication Date: October 1, 1989
Description
Spend a year meditating on the gospel call, as lived out in Mother Teresa of Calcutta. This devotional guide is arranged under fifty-two themes of love and charity, incorporating relevant scriptural passages, the inspiring words of Mother Teresa, and anecdotes from her life's ministry of tireless service to the world's forsaken destitute and dying.
The reader's own reflections can be recorded in the generous space provided at the end of each week. An added feature of this book is a seven-day selection of prayers and litanies ideally suited for private retreat in the spirit of Mother Teresa and her Missionaries of Charity.
Prayertimes with Mother Teresa offers an easy-to-follow formula for deriving needed spiritual nourishment in the Word and prepares us for living the Word in our own everyday lives.
About the Author
Eileen Egan has been a co-worker of Mother Teresa since 1955. A high-ranking member of Catholic Relief Services, involved in worldwide ministry to refugees and the needy, she has contributed articles to varoius magazines and newspapers including The Catholic Worker. She has published one previous book, The Works of Peace, and contributed to War or Peace, The Causes of World Hunger, and other collections. She is also the founder of Pax Christi USA and a representative of that organization to the UN.
Advertisement