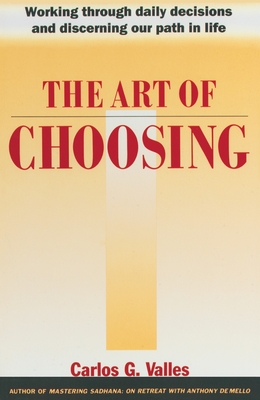 The Art of Choosing (Paperback)
Doubleday Books, 9780385263849, 144pp.
Publication Date: December 20, 2001
Description
"Never am I more I than when I stand serene, survey the field, weigh my choices, set my face in one direction, and advance with firm step and joyful heart. To know what I want to do and do it is the essence of life."

Our decisions -- from the most mundance of day-to-day living to those fork-in-the-road choices of great consequence -- chart the course of our existence. How can we make decisions carefully and thoughfully, so as to live more deliberately meaningful -- and happier -- lives? Carlos G. Valles, author of Mastering Sadhana: On Retreat with Anthony de Mello, here explores the process of discernment and decision-making. Using scripture, insights from Ignatian spirituality, and contemporary examples, the author illustrates the how and why of making choices and living comfortably with their consequences, whether they be positive or negative. "If my life is my choices," he writes, "I want my choices to be the best they can be. I want to master the art of choosing."
About the Author
Carlos G. Valles, S.J., is a Spanish Jesuit priest who has worked in India for the last thirty-eight years and became a close friend and associate of the late Father Anthony de Mello, S.J. He has written dozens of books, for which he has received India's highest literary award as best prose writer. His book Living Together is distributed in America by the Institute of Jesuit Sources and Sketches of God by Loyola University Press. In addition, his work has been translated.
Advertisement