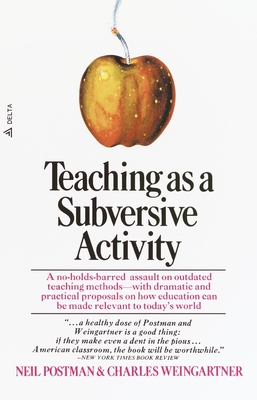 Teaching as a Subversive Activity: A No-Holds-Barred Assault on Outdated Teaching Methods-With Dramatic and Practical Proposals on How Education Can B (Paperback)
A No-Holds-Barred Assault on Outdated Teaching Methods-With Dramatic and Practical Proposals on How Education Can B
Delta, 9780385290098, 240pp.
Publication Date: July 15, 1971
Description
A no-holds-barred assault on outdated teaching methods--with dramatic and practical proposals on how education can be made relevant to today's world.
About the Author
Neil Postman was a University Professor, the Paulette Goddard Chair of Media Ecology, and the chair of the Department of Media, Culture, and Communication, all at New York University. Among his 20 books are studies of childhood (The Disappearance of Childhood); public discourse (Amusing Ourselves to Death); education (Teaching as a Subversive Activity and The End of Education); and the impact of technology (Technopoly). His interest in education was long-standing, beginning with his experience as an elementary and secondary school teacher. He died in 2003.
Advertisement