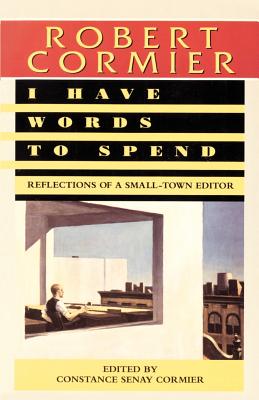 I Have Words to Spend (Paperback)
Reflections of a Small-Town Editor
Delacorte Books for Young Readers, 9780385312042, 224pp.
Publication Date: January 1, 1994
* Individual store prices may vary.
Description
In the tradition of those by William Allen White and Russell Baker, Robert Cormier's essays, originally written as newspaper columns, offering touching, humorous, and intensely personal observations and anecdotes about small-town life in America. Cormier explores those things that interest and excite him—from current events to the movies—as well as things that touch his heart—a daughter's wedding, the shape of his mother's hands.

"I have words to spend, and I do not always spend them wisely." Cormier writes—a surprising confession from a novelist hailed as a master craftsman and noted for his spare and controlled prose. It is also the confession of a writer unafraid to submit to the rigors of writing under deadline and of an observer who sees with his heart as well as with his eyes. I Have Words to Spend is a splendid collection of pieces about the small-town visions and values that have particular poignancy in a time of turmoil. This is a volume to treasure and to return to over and over again.

"Cormier's economical style of writing stories with a twist is evident in this collection of eighty-five short essays that were originally written as newspaper columns."—The Book Report
About the Author
Robert Cormier (1925–2000) changed the face of young adult literature over the course of his illustrious career. His many books include The Chocolate War, I Am the Cheese, Fade, Tenderness, After the First Death, Heroes, Frenchtown Summer, and The Rag and Bone Shop. In 1991 he received the Margaret A. Edwards Award, honoring his lifetime contribution to writing for teens.