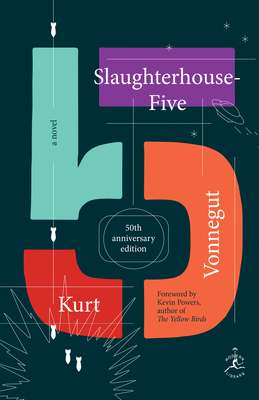 Slaughterhouse-Five: Or the Children's Crusade, a Duty Dance with Death (25th Anniversary) (Hardcover)
Or the Children's Crusade, a Duty Dance with Death (25th Anniversary)
Delacorte Press, 9780385312080, 224pp.
Publication Date: February 1, 1994
Description
Slaughterhouse-Five is one of the world's great anti-war books. Centering on the infamous fire-bombing of Dresden, Billy Pilgrim's odyssey through time reflects the mythic journey of our own fractured lives as we search for meaning in what we are afraid to know.
About the Author
Kurt Vonnegut was a master of contemporary American literature. His black humor, satiric voice, and incomparable imagination first captured America's attention in The Sirens of Titan in 1959 and established him as "a true artist" with Cat's Cradle in 1963. He was, as Graham Greene declared, "one of the best living American writers." Mr. Vonnegut passed away in April 2007.
Praise For Slaughterhouse-Five: Or the Children's Crusade, a Duty Dance with Death (25th Anniversary)…
"Poignant and hilarious, threaded with compassion and, behind everything, the cataract of a thundering moral statement."—Boston Globe

Very tough and very funny . . . sad and delightful . . . very Vonnegut."—New York Times

"Splendid art . . . a funny book at which you are not permitted to laugh, a sad book without tears."—Life

Advertisement