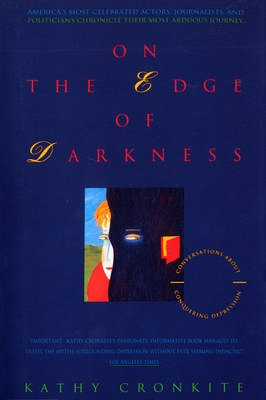 On the Edge of Darkness
Conversations About Conquering Depression
Paperback

* Individual store prices may vary.
Description
"I was ashamed.  It was a confession of weakness.  For years, depression meant the crazy house.  As I look back at it, [my shame] just seems damned foolishness, which is one reason I talk about it now."
--Mike Wallace

"Toward the end I couldn't get up. I just physically couldn't."
--Kitty Dukakis

They have made the impossible climb into the spotlight and attained their brightest dreams.  But for Mike Wallace, Kitty Dukakis, William Styron, Joan Rivers, and countless other people struggling against the debilitating effects of depression, life's most challenging battle is waged not in the public eye, but in the darkest recesses of the mind.  In her brilliant new work, Kathy Cronkite gives voice to dozens of celebrated professionals who have endured--and conquered--the hopelessness of chronic depression.  Most of all, this courageous book brings a ray of hope to the 24 million Americans who live in the shadows of this misunderstood disease, yet bravely seek a path toward the light.  You will learn:

What to do when the sadness won't go away.
Why women are most vulnerable to unipolar disorder.
How substance abuse can mask the symptoms of depression.
The latest therapeutic options for children who are affected by their own--or a parent's--illness.
Which effective new treatments can lift the burden of depression--for up to 90 percent of people who suffer from it!
Praise For On the Edge of Darkness: Conversations About Conquering Depression…
"Important...Kathy Cronkite's passionate, informative book manages to dispel the myths surrounding depression without ever seeming didactic."
--Los Angeles Times

"Riveting...[an] uplifting, strongly researched but accessible book."
--Kirkus Reviews

"Cronkite has embarked on a worthy mission, and for some her book may be the first step toward recovery."
--People
Delta, 9780385314268, 368pp.
Publication Date: July 1, 1995
About the Author
Kathy Cronkite was born in Washington, D.C., and grew up in New York City. She is the author of On the Edge of Darkness: Conversations on Conquering Depression and On the Edge of the Spotlight: Celebrities' Children Speak Out About Their Lives.
or
Not Currently Available for Direct Purchase