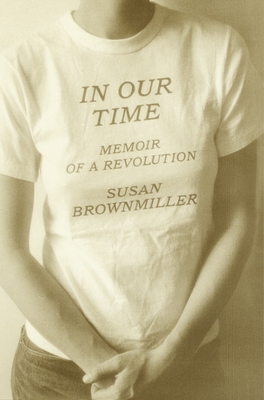 In Our Time (Paperback)
Memoir of a Revolution
Delta, 9780385318310, 388pp.
Publication Date: November 7, 2000
* Individual store prices may vary.
Description
There once was a time when the concept of equal pay for equal work did not exist, when women of all ages were "girls," when abortion was a back-alley procedure, when there was no such thing as a rape crisis center or a shelter for battered women, when "sexual harassment" had not yet been named and defined.  "If conditions are right," Susan Brownmiller says in this stunning memoir, "if the anger of enough people has reached the boiling point, the exploding passion can ignite a societal transformation."

In Our Time tells the story of that transformation, as only Brownmiller can.  A leading feminist activist and the author of Against Our Will, the book that changed the nation's perception of rape, she now brings the Women's Liberation movement and its passionate history vividly to life.

Here is the colorful cast of characters on whose shoulders we stand--the feminist icons Betty Friedan, Kate Millett, Germaine Greer, and Gloria Steinem, and the lesser known women whose contributions to change were equally profound.  And here are the landmark events of the era: the consciousness-raising groups that sprung up in people's living rooms, the mimeographed position papers that first articulated the new thinking, the abortion and rape speak-outs, the daring sit-ins, the underground newspaper collectives, and the inventive lawsuits that all played a role in the most wide-reaching revolution of the twentieth century.

Here as well are Brownmiller's reflections on the feminist utopian vision, and her dramatic accounts, rendered with honesty and humor, of the movement's painful internal schisms as it struggled to give voice to the aspirarations of all women.  Finally, Brownmiller addresses that most relevant question: What is the legacy of feminism today?
About the Author
Susan Brownmiller is the author of Against Our Will: Men, Women And Rape; Femininity; Waverly Place, a novel; Seeing Vietnam, and Shirley Chisholm, a biography for children.  She has written for The New York Times, The Village Voice, Esquire, Vogue, Rolling Stone, The Nation, and many other publications.  She lives in New York City.
Praise For In Our Time: Memoir of a Revolution…
Praise for Susan Brownmiller:

Against Our Will: Men, Women, and Rape:

"The most rigorous and provocative piece of scholarship that has yet emerged from the feminist movement. . . . May significantly change the terms of the dialogue between and about men and women."
--Time magazine

"Chilling and monumental. . . . Deserves a place next to those rare books which force us to change the way we feel about what we know."
--The New York Times Book Review

"Susan Brownmiller has succeeded in that rarest and most difficult task: She has written a book that not only must be read but also is readable. As a literary experience this book is as excellent as its ideas."
--Chicago Tribune Book World

"Against Our Will is a work of stunning originality which goes far beyond the statistics of rape to challenge some of society's most accepted assumptions. . . . A landmark work, one of the most significant books to emerge in this decade."
--Houston Chronicle

"A monumental work and a thoroughly chilling eye opener."
--St. Louis Post-Dispatch

Femininity:

"Illuminating and informative. Miss Brownmiller has turned a treacherous subject into a lively and compelling book . . . essential reading."
--Carol Gilligan, The New York Times Book Review

"She eloquently tells stories many women will identify with."
--The Washington Post Book World

"A positive joy to read!"
--Nora Ephron, Chicago Tribune Book World