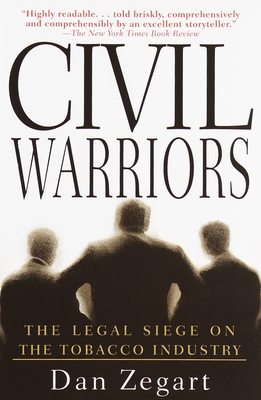 Civil Warriors: The Legal Siege on the Tobacco Industry (Paperback)
The Legal Siege on the Tobacco Industry
Delta, 9780385319362, 368pp.
Publication Date: December 4, 2001
Description
A landmark narrative of an epic legal battle, Civil Warriors is the gripping behind-the-scenes account of how one tenacious lawyer led the charge against the titans of the tobacco industry. Drawing on five years of eyewitness reporting, thousands of pages of internal documents, and riveting firsthand stories of plaintiffs, lawyers, jurors, and scientists, Civil Warriors weaves the compelling story of attorney Ron Motley, who, along with other die-hard lawyers, scientists, and tobacco-busters, fought tirelessly to bring the tobacco industry to justice. Taking us onto the front lines of Motley's crusade, investigative journalist Dan Zegart follows the attorney to a dangerous underworld where maverick scientists and corporate whistle-blowers step from the shadows to reveal the truth behind the industry "spin." We meet the unforgettable cast of characters that draw Motley on toward his goals ... the mysterious ex-Reynolds employee known as "Deep Cough," who told where evidence on nicotine-laced tobacco was hidden ... the researchers who proved the addictive nature of nicotine -- and were advised by the FBI to check their cars for bombs every morning. And we witness how Ron Motley led his quest for truth, justice, and hundred-billion-dollar awards ... to penetrate, finally, the "control room of the conspiracy," an inner circle of lawyers who protected tobacco for thirty years. Civil Warriors is at once a grand adventure and a towering work of investigative journalism -- an eye-opening report on the way justice really works in America today.
About the Author
Dan Zegart is a seasoned journalist whose articles have appeared in newspapers and magazines throughout the country, including Ms., Penthouse, and The Nation. He lives with his wife, Laura, in Titusville, New Jersey.
Praise For Civil Warriors: The Legal Siege on the Tobacco Industry…
"Highly readable ... told briskly, comprehensively and comprehensibly by an excellent storyteller."
— The New York Times Book Review

"Engrossing ... Full of great boardroom and courtroom drama, this well-researched book reads like a spy novel or an X-Files episode.... [A] damning indictment."
— Publishers Weekly

"A riveting account ... [Zegart is] a good storyteller."
— The Baltimore Sun
Advertisement