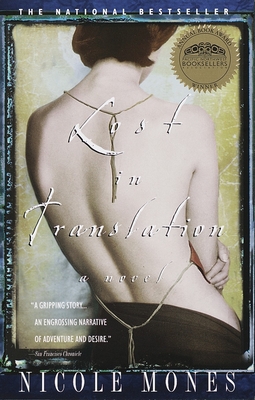 Lost in Translation
A Novel
Paperback

* Individual store prices may vary.
Other Editions of This Title:
Compact Disc (3/5/2019)
MP3 CD (7/26/2016)
Description
A novel of searing intelligence and startling originality, Lost in Translation heralds the debut of a unique new voice on the literary landscape.  Nicole Mones creates an unforgettable story of love and desire, of family ties and human conflict, and of one woman's struggle to lose herself in a foreign land--only to discover her home, her heart, herself.

At dawn in Beijing, Alice Mannegan pedals a bicycle through the deserted streets.  An American by birth, a translator by profession, she spends her nights in Beijing's smoke-filled bars, and the Chinese men she so desires never misunderstand her intentions.  All around her rushes the air of China, the scent of history and change, of a world where she has come to escape her father's love and her own pain.  It is a world in which, each night as she slips from her hotel, she hopes to lose herself forever.

For Alice, it began with a phone call from an American archaeologist seeking a translator.  And it ended in an intoxicating journey of the heart--one that would plunge her into a nation's past, and into some of the most rarely glimpsed regions of China.  Hired by an archaeologist searching for the bones of Peking Man, Alice joins an expedition that penetrates a vast, uncharted land and brings Professor Lin Shiyang into her life.  As they draw closer to unearthing the secret of Peking Man, as the group's every move is followed, their every whisper recorded, Alice and Lin find shelter in each other, slowly putting to rest the ghosts of their pasts.  What happens between them becomes one of the most breathtakingly erotic love stories in recent fiction.  Indeed, Lost in Translation is a novel about love--between a nation and its past, between a man and a memory, between a father and a daughter.  Its powerful impact confirms the extraordinary gifts of a master storyteller, Nicole Mones.
Praise For Lost in Translation: A Novel…
Advance praise for Lost in Translation:

"Lost in Translation is an adventurous and romantic tale of a complex American woman in an exotic landscape. A remarkable first novel."
--Dominick Dunne, bestselling author of Another City, Not My Own

"Nicole Mones takes you on an enthralling, sensuous journey through China that leads deep into the hidden chambers of the human heart."
--Beth Henley, Pulitzer Prize-winning author of Crimes of the Heart

"A complex portrait of a woman in search of herself . . . that reveals as much about character and cultural differences as it does about a search for priceless, long-lost fossils. Mones succeeds in integrating archeological history, spiritual philosophy and cultural dislocation into a tale of identity on many levels."
--Publishers Weekly, starred review
Delta, 9780385319447, 384pp.
Publication Date: May 11, 1999
About the Author
Nicole Mones has traveled and worked extensively in China since 1977.  She lives with her family in Portland, Oregon.
or
Not Currently Available for Direct Purchase