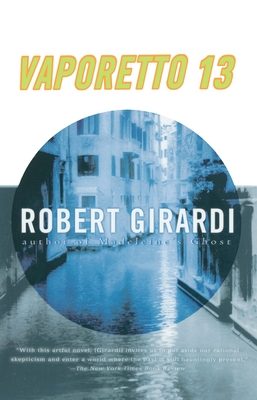 Vaporetto 13 (Paperback)
Delta, 9780385319478, 208pp.
Publication Date: September 4, 1998
Description
Wilson Squire is a currency trader sent by his company to Venice, Italy, to gauge the political climate and its potential effect on the lira. Haunted by recent events in his life and uneasy in the foreign environment, he finds it impossible to sleep, so he takes to walking the damp Venetian streets at midnight. In that labyrinth of alleyways and bridges, Wilson meets the ethereal and perplexing Caterina, a woman who seems to bear the sadness of centuries, a woman wrapped in the past but unwilling to share any of her own history with him. Every night he goes to find her among the thousands of stray cats that she feeds faithfully, and over the course of a few weeks falls desperately in love with her even though he knows nothing about her beyond the vague answers he receives to his constant questions. But something about her compels him despite reason. Even as he begins to learn that to uncover the secret she is keeping means losing her forever, he presses harder for a truth that is as elusive as it is inescapable. As the winter hangs heavy over the deserted city, Wilson finds the impossible answer that will change his life forever.
About the Author
Robert Girardi was educated at Catholic schools in Europe and at the University of Virginia in Charlottesville. He holds an MFA from the University of Iowa Writers' Workshop and was a recipient of a James Michener Fellowship in 1989. He lives in Washington, DC.
Praise For Vaporetto 13…
"One of the great things here is the seductive evocation of Venice, rich beyond measure and seen in its seedy intimacy as well as its eternal glamor."
--James Salter, author of Burning the Days

"Vaporetto 13 is easily the most evocative and disorienting Venetian tale since Don't Look Now."
--Jonathan Carroll, author of After Silence

"Carried along on the magnificent light of Robert Girardi's prose, his new novel is an exquisite journey down the seductive paths of love, desire, and money where all is beautiful and haunting and where, as if God and history intended it, we catch an unexpected glimpse of ourselves."
--Don Snyder, author of The Cliff Walk
Advertisement