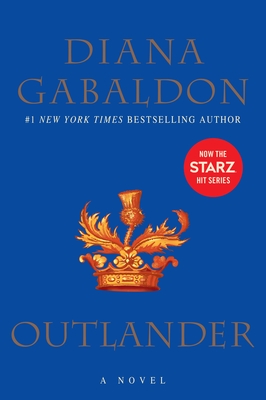 Outlander
A Novel
Paperback

* Individual store prices may vary.
Other Editions of This Title:
Digital Audiobook (3/29/2012)
Mass Market (6/2/1992)
Mass Market (7/1/2014)
Hardcover (6/1/1991)
Compact Disc (4/1/2006)
Prebound (6/2/1992)
Mass Market Paperback (7/1/2005)
Description
#1 NEW YORK TIMES BESTSELLER • The first book in Diana Gabaldon's acclaimed Outlander saga, the basis for the Starz original series. Don't miss the new Outlander novel, Go Tell the Bees That I Am Gone, available November 23!

One of the top ten best-loved novels in America, as seen on PBS's The Great American Read!
 
Unrivaled storytelling. Unforgettable characters. Rich historical detail. These are the hallmarks of Diana Gabaldon's work. Her New York Times bestselling Outlander novels have earned the praise of critics and captured the hearts of millions of fans. Here is the story that started it all, introducing two remarkable characters, Claire Beauchamp Randall and Jamie Fraser, in a spellbinding novel of passion and history that combines exhilarating adventure with a love story for the ages.

Scottish Highlands, 1945. Claire Randall, a former British combat nurse, is just back from the war and reunited with her husband on a second honeymoon when she walks through a standing stone in one of the ancient circles that dot the British Isles. Suddenly she is a Sassenach—an "outlander"—in a Scotland torn by war and raiding clans in the year of Our Lord . . . 1743.
 
Claire is catapulted into the intrigues of a world that threatens her life, and may shatter her heart. Marooned amid danger, passion, and violence, Claire learns her only chance of safety lies in Jamie Fraser, a gallant young Scots warrior. What begins in compulsion becomes urgent need, and Claire finds herself torn between two very different men, in two irreconcilable lives.
Praise For Outlander: A Novel…
Praise for Diana Gabaldon's Outlander novels
 
"Marvelous and fantastic adventures, romance, sex . . . perfect escape reading."—San Francisco Chronicle, on Outlander
 
"History comes deliciously alive on the page."—New York Daily News, on Outlander
 
"Gabaldon is a born storyteller. . . . The pages practically turn themselves."—The Arizona Republic, on Dragonfly in Amber
 
"Triumphant . . . Her use of historical detail and a truly adult love story confirm Gabaldon as a superior writer."—Publishers Weekly, on Voyager
 
"Unforgettable characters . . . richly embroidered with historical detail."—The Cincinnati Post, on Drums of Autumn
 
"A grand adventure written on a canvas that probes the heart, weighs the soul and measures the human spirit across [centuries]."—CNN, on The Fiery Cross
 
"The large scope of the novel allows Gabaldon to do what she does best, paint in exquisite detail the lives of her characters."—Booklist, on A Breath of Snow and Ashes
 
"Features all the passion and swashbuckling that fans of this historical fantasy series have come to expect."—People, on Written in My Own Heart's Blood
Delta, 9780385319959, 672pp.
Publication Date: August 10, 1998
About the Author
Diana Gabaldon is the #1 New York Times bestselling author of the wildly popular Outlander novels—Outlander, Dragonfly in Amber, Voy­ager, Drums of Autumn, The Fiery Cross, A Breath of Snow and Ashes (for which she won a Quill Award and the Corine International Book Prize), An Echo in the Bone, Written in My Own Heart's Blood, and Go Tell the Bees That I Am Gone—as well as the related Lord John Grey books, Lord John and the Private Matter, Lord John and the Brotherhood of the Blade, Lord John and the Hand of Devils, and The Scottish Prisoner; a collection of novellas, Seven Stones to Stand or Fall; three works of nonfiction, "I Give You My Body . . ." and The Outlandish Com­panion, Volumes 1 and 2; the Outlander graphic novel The Exile; and The Official Outlander Coloring Book. She lives in Scottsdale, Arizona, with her husband.
Fantasy, the paranormal, the supernatural . . . If we as readers are willing to suspend our disbelief (to use Coleridge's phrase), narratives that make demands on our credulity require a very trustworthy narrator. What qualities does Claire possess that make us willing to believe her tale? Are there aspects of Claire's personality with which you can personally identify? Can you think of other narrators whose credibility is the key to a reader's acceptance of an otherwise unacceptably implausible story?
The ghost episode: Yes, Diana Gabaldon confirmed that the kilted figure gazing up at Claire's window was indeed Jamie and that we will know at the end of the series why he was doing so. Having read Outlander, however, why do you thinkhe was there? The apparition provoked Frank's clumsy attempt to tell Claire that he would understand and accept that she might have been unfaithful during the pressures of war. What is your reaction to this: Is her angry response to him justified or not, in your view? Why? Do you share her intuition that he may have been referring to an infidelity of his own? If so, how does this affect your response to his character?
After Claire discovers Jamie and Laoghaire kissing, Alec shrewdly remarks that Jamie needs a woman and that Laoghaire will be a girl when she is fifty (114). What evidence do you see of Laoghaire's immaturity in this book? If you have not read the sequels, how do you think this prediction might play out? (And if you have read them, how does it play out?) How much sympathy or criticism do you have for Laoghaire in this novel? Why?
On their wedding night, Jamie says, "There are things that I canna tell you, at least not yet. And I'll ask nothing of ye that ye canna give me. But what I would ask of ye—when you do tell me something, let it be the truth. And I'll promise ye the same. We have nothing now between us, save—respect, perhaps. And I think that respect has maybe room for secrets, but not for lies. Do ye agree?"(199) Do you agree that a good marriage can have secrets?
Many readers are drawn to the Outlander novels because of the powerfully appealing character of Jamie. What is it about a character with an eighteenth century sensibility that is so attractive to twenty-first-century readers? Scholar Jessica Matthews suggests that "part of its popularity stems from Diana Gabaldon's rehabilitation of masculinity after feminism tried its best to declaw it for a generation." What aspects of masculinity have been "rehabilitated" for us in Jamie?
The title of this first novel seems prescient, as so many characters in the subsequent volumes are, in so many ways, outsiders too. In what ways is Claire an "outlander"?
What, in your opinion, was the most moving moment? The most frightening one? The most surprising one? The funniest one? The most erotic one? The most beautifully descriptive passage? The most interesting detail(s) in terms of the novel's depiction of a different historical era?
Diana Gabaldon's own description of Outlander's contents is as follows:"history, warfare, medicine, sex, violence, spirituality, honor, betrayal, vengeance, hope and despair, relationships, the building and destruction of families and societies, time travel, moral ambiguity, swords, horses, herbs, gambling (with cards, dice, and lives), voyages of daring, journeys of both body and soul . . . you know, the usual stuff of literature . . ." True, but rarely found within the same covers. Are some of these more important to you than others? Which ones? Why? Can you and your group come to a consensus on three that stand out?