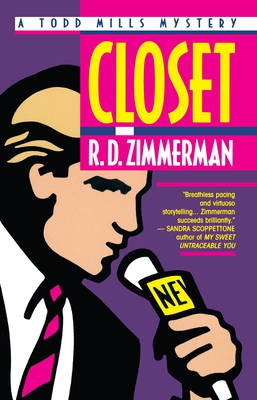 Closet (Paperback)
Delta, 9780385320047, 320pp.
Publication Date: October 6, 1997
Description
It began with a brutal attack in a posh Minneapolis neighborhood. And from the first killing to the next, Todd Mills was at the center of the story. The son of Polish immigrants, Todd had changed his name and risen to the top of his field as a TV news reporter, winning two Emmy Awards along the way. Then his world came crashing down. Suddenly, the double life he'd hidden for so long was brutally uncovered: he was the secret lover of the first man to die. When Michael was murdered, Todd lost everything--including a life lived as a lie. Now he's out of the closet and under suspicion, desperately investigating the killings himself, moving through a world of gay bars, steamy nightclubs, and double identities--where the one secret that matters most belongs to a killer who will strike again . . . and again.
About the Author
R. D. Zimmerman has been nominated for two Edgars, two Lambda Literary Awards, and an Anthony Award. He is the author of many novels, including Tribe and Closet--a Lambda Literary Award winner--of the Todd Mills series and six children's books. He also created six bestselling mystery jigsaw puzzles. Raised in Chicago, he now lives in Minneapolis.
Praise For Closet…
"Closet explodes out of the starting gate. . . then relentlessly races  all the way to its shocking conclusion."
--Minneapolis Star Tribune

"Breathless pacing and virtuoso storytelling . . . Zimmerman succeeds brilliantly."
--Sandra Scoppettone, author of My Sweet Untraceable You

"R.D. Zimmerman is soon to become a household name."
--Sue Grafton

"Entertaining, intricately constructed and absorbing. . . A well-crafted mystery."
--Twin Cities Reader

"Zimmerman is a superb writer, building suspense through genuine surprises while creating believable characters."
--The Ft. Lauderdale Sun-Sentinel
Advertisement