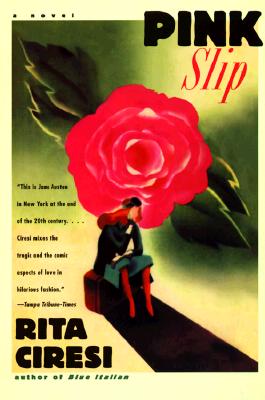 Pink Slip (Paperback)
Delta, 9780385323635, 402pp.
Publication Date: December 28, 1999
* Individual store prices may vary.
or
Not Currently Available for Direct Purchase
Description
Lisa Diodetto's mother may be ready for her to get married but Lisa isn't.

At her sister's wedding she ducks when the bridal bouquet comes floating her way, and the only "eligible bachelor" in Lisa's life is her beloved gay cousin, Dodie.

Ditching her life as an underpaid, oversexed publishing drone in Manhattan, Lisa takes a lucrative spot at a more conservative company, and begins writing--on company time--a novel that pokes fun at corporate life.

Enter Lisa's main character: her new boss, Eben Strauss. A man of manners and caution, Strauss manages to bring out the best bad girl in Lisa. And before they know it, two very different people from two very different worlds are doing the one thing you should never do at the office: falling in love.

In her funny, familiar, heartbreaking new novel, the award-winning author of Blue Italian weaves a tale of family, work, sex, and love--and of all the things we try to leave behind but never really can. . . .
About the Author
Rita Ciresi is the author of Mother Rocket, which won the Flannery O'Connor Award for Short Fiction, and the novels Pink Slip and Blue Italian. She lives with her husband and daughter in Florida.
Praise For Pink Slip…
"Wit and humor are the keys to this lively novel."
--Mademoiselle

"Pink Slip mixes lust, corporate shenanigans and the dangers of writing tell-all books. . . . Ciresi's humor has an edgy Nora Ephron quality; her heroine is flawed enough to be endearing."
--St. Petersburg Times

"This is Jane Austen in New York at the end of the 20th century. . . . Ciresi mixes the tragic and the comic aspects of love in hilarious fashion."
--Tampa Tribune-Times

"Ms. Ciresi's wonderful prose and generous heart work together pitch perfectly here to render what we all hope for: a good love story."
--Bret Lott, author of Jewel
Advertisement