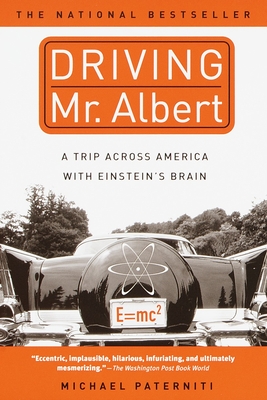 Driving Mr. Albert (Paperback)
A Trip Across America with Einstein's Brain
Dial Press Trade Paperback, 9780385333030, 224pp.
Publication Date: June 5, 2001
Other Editions of This Title:
MP3 CD (10/25/2016)
MP3 CD (9/10/2013)
MP3 CD (9/10/2013)
Compact Disc (9/10/2013)
Compact Disc (9/10/2013)
* Individual store prices may vary.
Description
Albert Einstein's brain floats in a Tupperware bowl in a gray duffel bag in the trunk of a Buick Skylark barreling across America. Driving the car is journalist Michael Paterniti. Sitting next to him is an eighty-four-year-old pathologist named Thomas Harvey, who performed the autopsy on Einstein in 1955 -- then simply removed the brain and took it home. And kept it for over forty years.

On a cold February day, the two men and the brain leave New Jersey and light out on I-70 for sunny California, where Einstein's perplexed granddaughter, Evelyn, awaits. And riding along as the imaginary fourth passenger is Einstein himself, an id-driven genius, the original galactic slacker with his head in the stars. Part travelogue, part memoir, part history, part biography, and part meditation, Driving Mr. Albert is one of the most unique road trips in modern literature.
About the Author
Michael Paterniti won the 1998 National Magazine Award for his article "Driving Mr. Albert," which was first published in Harper's Magazine. A former executive editor of Outside, his work has appeared in Rolling Stone, The New York Times Magazine, Details, and Esquire, where he is writer-at-large. He lives in Portland, Maine, with his wife and son.
Praise For Driving Mr. Albert: A Trip Across America with Einstein's Brain…
"Eccentric, implausible, hilarious, infuriating, and ultimately mesmerizing."
-- The Washington Post Book World

"A splendid peek into the weird side of American life. Driving Mr. Albert is a work of ... uncommon intelligence."
-- Newsweek

"One of the most fascinating and memorable road trips since Kerouac's On the Road."
-- The Denver Post

"Driving Mr. Albert is entertaining, absurd, real, deep and informative ... in a world in which it seems that all the good ideas have been taken, it is singular."
-- The Boston Globe

"Paterniti seems to have been favored by that happy little god of travel writers who sits on one shoulder and whispers ... the perfect anecdotes, the perfect set pieces at the perfect moments. ... It's a brain, in fact, that I'd be happy to travel with again."
-- The New York Times Book Review