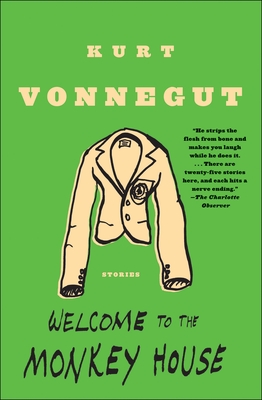 Welcome to the Monkey House (Paperback)
Dial Press, 9780385333504, 352pp.
Publication Date: September 8, 1998
Description
Welcome to the Monkey House is a collection of Kurt Vonnegut's shorter works. Originally printed in publications as diverse as The Magazine of Fantasy and Science Fiction and The Atlantic Monthly, these superb stories share Vonnegut's audacious sense of humor and extraordinary range of creative vision.

About the Author
Kurt Vonnegut was a master of contemporary American literature. His black humor, satiric voice, and incomparable imagination first captured America's attention in The Sirens of Titan in 1959 and established him, in the words of The New York Times, as "a true artist" with the publication of Cat's Cradle in 1963. He was, as Graham Greene declared, "one of the best living American writers." Mr. Vonnegut passed away in April 2007.
Praise For Welcome to the Monkey House…
"He strips the flesh from bone and makes you laugh while he does it. . . . There are twenty-five stories here, and each hits a nerve ending."—Charlotte Observer
 
"Vonnegut is George Orwell, Dr. Caligari and Flash Gordon compounded into one writer . . . a zany but moral mad scientist."—Time

"A great artist."—Cincinnati Enquirer

Advertisement