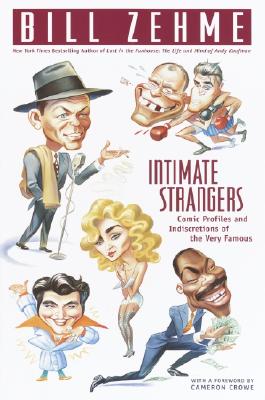 Intimate Strangers: Comic Profiles and Indiscretions of the Very Famous (Paperback)
Comic Profiles and Indiscretions of the Very Famous
Delta, 9780385333740, 400pp.
Publication Date: November 26, 2002
* Individual store prices may vary.
or
Not Currently Available for Direct Purchase
Description
Schwarzenegger intimidates.
Sharon Stone strips.
Leno and Letterman duel.
In twenty years of raw and raucous celebrity profiles
Irreverently bold journalist Bill Zehme has long been celebrated for his ability to get under the skins of our most elusive icons, from the evasive Warren Beatty to the ever-unpredictable Madonna to the much misunderstood Barry Manilow. Now his most provocative work is collected for the first time, with over twenty-five landmark profiles, including Frank Sinatra, Tom Hanks, Jerry Seinfeld, Liberace, Howard Stern, Eddie Murphy, and Woody Allen.
Zehme witnesses Hugh Hefner withstanding the single blow that never entered into an adolescent boy's dreams--losing his fantasy woman. He gets a nude massage with Sharon Stone, and an earful about men, sex, and the shotgun she keeps under her bed. Included, too, is Zehme's exclusive firsthand coverage of David Letterman and Jay Leno, before and throughout their late-night feud. Here is entertainment history through the eyes of a man the Chicago Tribune called "one of the most successful and prolific magazine writers in the country."
Hilarious, endearing, and wickedly insightful, Intimate Strangers captures the business of celebrity for what it is: a big, lusty, star-crossed love affair between our icons and ourselves.
About the Author
Bill Zehme is the author of the New York Times bestseller The Way You Wear Your Hat: Frank Sinatra and the Lost Art of Livin'. A longtime writer-at-large for Esquire, his profiles have also appeared in Rolling Stone, Playboy, and Vanity Fair. He lives in Chicago.
Advertisement