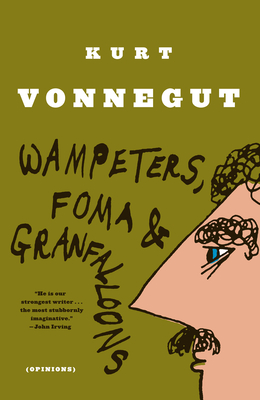 Wampeters, Foma & Granfalloons: (Opinions) (Paperback)
(Opinions)
Dial Press, 9780385333818, 320pp.
Publication Date: January 12, 1999
Description
Wampeters, Foma & Granfalloons (Opinions) is a rare opportunity to experience Kurt Vonnegut speaking in his own voice about his own life, his views of the world, his writing, and the writing of others. An indignant, outrageous, witty, deeply felt collection of reviews, essays, and speeches, this is a window not only into Vonnegut's mind but also into his heart.
About the Author
Kurt Vonnegut's black humor, satiric voice, and incomparable imagination first captured America's attention in The Sirens of Titan in 1959 and established him as "a true artist" (The New York Times) with Cat's Cradle in 1963. He was, as Graham Greene declared, "one of the best living American writers." Mr. Vonnegut passed away in April 2007.
Praise For Wampeters, Foma & Granfalloons: (Opinions)…
"He is our strongest writer . . . the most stubbornly imaginative."—John Irving

"A book filled with madness and truth and absurdity and self-revelation . . . [Vonnegut is] a great cosmic comedian and rattler of human skeletons, an idealist disguised as a pessimist."—St. Louis Post-Dispatch

"Vonnegut is George Orwell, Dr. Caligari and Flash Gordon compounded into one writer."—Time
Advertisement