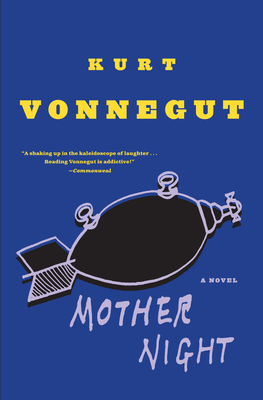 Mother Night (Paperback)
Dial Press, 9780385334143, 288pp.
Publication Date: May 11, 1999
Description
Mother Night is a daring challenge to our moral sense. American Howard W. Campbell, Jr., a spy during World War II, is now on trial in Israel as a Nazi war criminal. But is he really guilty? In this brilliant book rife with true gallows humor, Vonnegut turns black and white into a chilling shade of gray with a verdict that will haunt us all.
About the Author
Kurt Vonnegut's black humor, satiric voice, and incomparable imagination first captured America's attention in The Sirens of Titan in 1959 and established him as "a true artist" (The New York Times) with Cat's Cradle in 1963. He was, as Graham Greene declared, "one of the best living American writers." Mr. Vonnegut passed away in April 2007.
Praise For Mother Night…
"A great artist."—Cincinnati Enquirer

"A shaking up in the kaleidoscope of laughter . . . Reading Vonnegut is addictive!"—Commonwealth

"Vonnegut is George Orwell, Dr. Caligari and Flash Gordon compounded into one writer . . . a zany but moral mad scientist."—Time

Advertisement