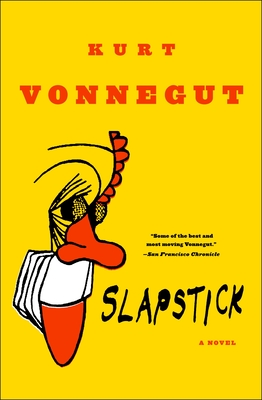 Slapstick or Lonesome No More! (Paperback)
Dial Press, 9780385334235, 288pp.
Publication Date: May 11, 1999
Description
Slapstick presents an apocalyptic vision as seen through the eyes of the current King of Manhattan (and last President of the United States), a wickedly irreverent look at the all-too-possible results of today's follies. But even the end of life-as-we-know-it is transformed by Kurt Vonnegut's pen into hilarious farce--a final slapstick that may be the Almighty's joke on us all.
About the Author
Kurt Vonnegut was a master of contemporary American literature. His black humor, satiric voice, and incomparable imagination first captured America's attention in The Sirens of Titan in 1959 and established him as "a true artist" with Cat's Cradle in 1963. He was, as Graham Greene declared, "one of the best living American writers." Mr. Vonnegut passed away in April 2007.
Praise For Slapstick or Lonesome No More!…
"Some of the best and most moving Vonnegut."—San Francisco Chronicle

"Both funny and sad . . . just about perfect."—Los Angeles Times
 
"Imaginative and hilarious . . . a brilliant vision of our wrecked, wacked-out future."—Hartford Courant
Advertisement