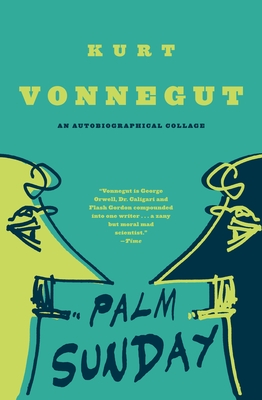 Palm Sunday: An Autobiographical Collage (Paperback)
An Autobiographical Collage
Dial Press, 9780385334266, 320pp.
Publication Date: May 11, 1999
Description
In this self-portrait by an American genius, Kurt Vonnegut writes with beguiling wit and poignant wisdom about his favorite comedians, country music, a dead friend, a dead marriage, and various cockamamie aspects of his all-too-human journey through life. This is a work that resonates with Vonnegut's singular voice: the magic sound of a born storyteller mesmerizing us with truth.
About the Author
Kurt Vonnegut's black humor, satiric voice, and incomparable imagination first captured America's attention in The Sirens of Titan in 1959 and established him as "a true artist" (The New York Times) with Cat's Cradle in 1963. He was, as Graham Greene declared, "one of the best living American writers." Mr. Vonnegut passed away in April 2007.
Praise For Palm Sunday: An Autobiographical Collage…
"Vonnegut is George Orwell, Dr. Caligari and Flash Gordon compounded into one writer . . . a zany but moral mad scientist."—Time

"[Kurt Vonnegut] is either the funniest serious writer around or the most serious funny writer."—Los Angeles Times Book Review

"Vonnegut is at the top of his form, and it is wonderful."—Newsday
Advertisement