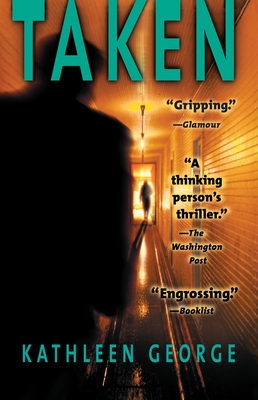 Taken (Paperback)
Delta, 9780385335478, 368pp.
Publication Date: June 25, 2002
Description
The child was taken in broad daylight, on a warm June morning, in a crowded shopping area in downtown Pittsburgh.

Marina Benedict first saw the baby with his mother. Then, just minutes later, she saw him again, in the arms of a man she was certain was not the child's father. In a single life-altering act, Marina followed them. What happens next will plunge her into a mystery that is both heartbreaking and chilling. Within hours of the abduction, the city is galvanized by the story: a child, the son of a pitcher for the Pirates, is missing. And soon a community begins to unravel...Detective Richard Christie struggles with his own demons as he tries to solve a baffling mystery. And Marina Benedict, pulled from the safety of her ordinary life by a brutal crime, is at the center of the story. Because once, Marina tried to save a life and it changed her forever. Now she will risk her life again--for a child who is still out there somewhere, still in need of saving.


From the Paperback edition.
About the Author
Kathleen George, a director and theater professor at the University of Pittsburgh, is also the author of The Man in the Buick, a collection of stories. Her fiction has appeared in many publications, including "North American Review" and "Mademoiselle." Taken is her first novel. "From the Hardcover edition."
Praise For Taken…
"Taken is a tough and tender thriller by a writer who knows the world of the heart as well as the world of crime. Kathleen George takes the reader on an intense, suspenseful ride in which even evil has a human face. This is a moving, gripping and mutilayered story in which the search for love touches everything, even grief for a lost baby. Ms. George's spare but eloquent style does justice to the important topic of the adoption industry in the U.S."
— Perri O'Shaughnessy, author of Move to Strike

"Taken is that rare thriller that gives as much weight to its characters and prose as it does to its ticking time-bomb plot. The story drew me in, but it was the author's fallible, very human cast that kept me coming back for more. I look forward to reading anything that Kathleen George writes."
— George P. Pelecanos, author of Right as Rain

"Taken is wonderful — tautly constructed, complex. The criminals are as interesting as the heroes."
— Nicholas Pileggi, author of Wise Guys


In the row in front of her sat a man and a baby.

If she hadn't looked, if she had sat in the front of the bus, so many things might have been different.

She looked, as she always had (on planes, in doctors' waiting rooms, anywhere), toward the sound of a child. In the man's lap was a boy in blue overalls and a T-shirt that was a sea of sailboats.

"Oh, hello!" she said. "There you are again!"

For a moment there was stillness.

It seemed the man would turn to her, but he moved his shoulder forward to shield the baby.

Marina's gut reacted long before her mind did. Her stomach dropped. A moment's vertigo seized her.

Some other child, she told herself. The man is simply being protective. She looked again.

And the baby looked at her, studied her, making his little thoughtful faces.

No, this was the same child.

She leaned forward. She thought, What am I doing? My life is falling apart, why court someone else's problem.

The boy began to cry....

Advertisement