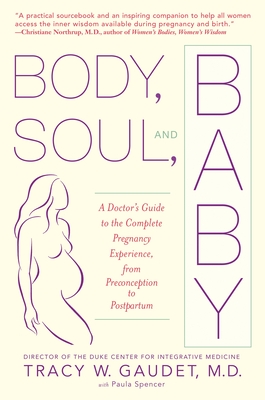 Body, Soul, and Baby: A Doctor's Guide to the Complete Pregnancy Experience, from Preconception to Postpartum (Paperback)
A Doctor's Guide to the Complete Pregnancy Experience, from Preconception to Postpartum
Bantam, 9780385335751, 523pp.
Publication Date: January 29, 2008
* Individual store prices may vary.
or
Not Currently Available for Direct Purchase
Description
In a culture that rarely sees pregnancy as a journey to self-discovery, Body, Soul, and Baby offers a fresh perspective on this transformative life experience by showing women how to tune in to the cues offered by their bodies and souls--as well as by the babies growing within them--for a healthier pregnancy, a more fulfilling birth experience, and a deeper bond with their baby.
Drawing on the best of both complementary and conventional Western medicine, Dr. Gaudet has written a groundbreaking guide that shows you how to become an active participant in your pregnancy. By working with the natural processes of pregnancy, you can discover how to:
- Pick up important signals from within about what you need, what your body needs, and what is right for both you and your baby
- Tune in to cues that can alert you to early signs of problems
- Use the mind-body connection to reduce stress, explore this remarkable life change, and bond with your baby
- Nurture your whole self, including your evolving sexual and sensual needs
- Make informed and conscious choices that reflect both your personal feelings and the latest
medical information
- Collaborate with your doctor or midwife, and build a supportive health-care team
Empowering, inspiring, and respectful of the wisdom of the female body and spirit, this invaluable book also includes advice on eating right and staying active, and natural and alternative approaches to pain relief. Whether you're already pregnant or preparing to be, the time to start listening to your inner wisdom is now, and the guide to doing it is here.
"From the Hardcover edition.
About the Author
Tracy W. Gaudet, M.D., is Executive Director of the Duke Center for Integrative Medicine at the Duke University School of Medicine. The author of the highly acclaimed Consciously Female, Dr. Gaudet is a practicing, board-certified ob-gyn and the founding executive director of Dr. Andrew Weil's Program in Integrative Medicine at the University of Arizona. She lives with her son Ryan in Durham, North Carolina.

Paula Spencer is a freelance writer whose eight books include The V Book and"Momfidence!: An Oreo Never Killed Anybody"and"Other Secrets of Happier Parenting." Author of the "Momfidence!" column in "Woman's Day," she is also a contributing editor to "Parenting" and "Baby Talk." She lives with her husband and four children in Chapel Hill, North Carolina. "From the Hardcover edition."
Praise For Body, Soul, and Baby: A Doctor's Guide to the Complete Pregnancy Experience, from Preconception to Postpartum…
"Having a baby? At last, a book that addresses all your concerns and supports all your hopes. Body, Soul, and Baby is a must have for every woman who not only plans to give birth but wants to become a mother in the fullest, most complete sense of the word."—Rachel Naomi Remen MD, author of Kitchen Table Wisdom

"From the first thought of getting pregnant to the magic of motherhood, this book celebrates every stage of the extraordinary process of giving birth. It's the perfect gift for any expecting mom or dad!"—Cheryl Richardson, author of Stand Up for Your Life, Life Makeovers, and Take Time for Your Life

"This is exactly what a pregnancy guide should be- up to date and comprehensive information about the medical aspects of pregnancy combined with what every mom to be needs to know about the rest of her body, mind, and soul. Pregnancy is indeed about more than what is going on in the uterus".—Alice Domar, author of Self Nurture

"Body, Soul, and Baby is both a practical source book and inspiring companion to help all women access the inner wisdom available during pregnancy and birth."—Christiane Northrup
Advertisement