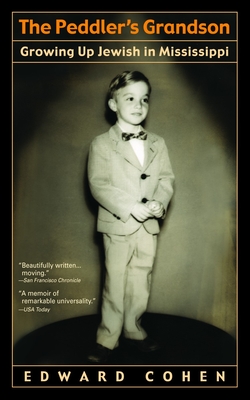 The Peddler's Grandson (Paperback)
Growing Up Jewish in Mississippi
Delta, 9780385335911, 216pp.
Publication Date: January 2, 2002
* Individual store prices may vary.
Description
Edward Cohen was among the tiny minority of Jews in Jackson, Mississippi, the heart of the Bible Belt. As a child, he grew up singing "Dixie"in his segregated school and saying sh'ma in synagogue. And in his powerful, luminous memoir, Cohen tells a story as universal as it is particular, at once a deeply personal account of growing up an outsider and a vibrant family story of three generations of American Jews.

To Edward Cohen, it seemed the entire world was Jewish. Then he went to school, where he was the only child who didn't bow his head during Christian prayers, the only child not invited to dance class.

As the polite '50s segued into the racially explosive '60s, Jackson, Mississippi, would never be the same. And Edward would escape to the University of Miami in search of a new identity.

There, he thought he would find other Jews and finally gain the acceptance he never had. But once again he found himself an outsider — this time as a southerner.

A stirring memoir for anyone who's ever felt a loss of identity or pressure to conform, The Peddler's Grandson is sure to touch readers everywhere who have grappled with who they are.
About the Author
Edward Cohen was the head writer for Missippi Educational Television, where he wrote and produced several award-winning PBS documentaries. His memoir, The Peddler's Grandson: Growing Up Jewish in Mississippi, won the awards for best nonfiction of 2000 from both Mississippi Institute of Arts and Letters and the Mississippi Library Association. He is a writer and filmmaker living in Venice, California.
Praise For The Peddler's Grandson: Growing Up Jewish in Mississippi…
"This thoughtful and beautifully written memoir is a revelation about the allure of assimilation and the evasiveness of identity."
— Booklist

"Vividly detailed ... sometimes painfully funny, sometimes painfully honest ... you walk away from The Peddler's Grandson with a sense of the importance of making a separate peace, and understanding that a person can be defined not by how he fits into the world, but by how he stands defiant in the face of a world apart."
— USA Today