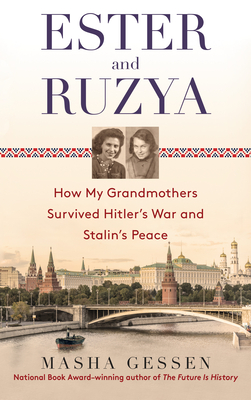 Ester and Ruzya
How My Grandmothers Survived Hitler's War and Stalin's Peace
Paperback

* Individual store prices may vary.
Description
In this "extraordinary family memoir,"* the National Book Award–winning author of The Future Is History reveals the story of her two grandmothers, who defied Fascism and Communism during a time when tyranny reigned.
 
*The New York Times Book Review

In the 1930s, as waves of war and persecution were crashing over Europe, two young Jewish women began separate journeys of survival. Ester Goldberg was a rebel from Bialystok, Poland, where virtually the entire Jewish community would be sent to Hitler's concentration camps. Ruzya Solodovnik was a Russian-born intellectual who would become a high-level censor under Stalin's regime. At war's end, both women found themselves in Moscow. Over the years each woman had to find her way in a country that aimed to make every citizen a cog in the wheel of murder and repression. One became a hero in her children's and grandchildren's eyes; the other became a collaborator. With grace, candor, and meticulous research, Masha Gessen, one of the most trenchant observers of Russia and its history today, peels back the layers of time to reveal her grandmothers' lives—and to show that neither story is quite what it seems.

Praise for Masha Gessen
 
"One of the most important activists and journalists Russia has known in a generation."—David Remnick, The New Yorker
 
"Masha Gessen is humbly erudite, deftly unconventional, and courageously honest."—Timothy Snyder, author of On Tyranny
Praise For Ester and Ruzya: How My Grandmothers Survived Hitler's War and Stalin's Peace…
"Reviewers sometimes call a work of nonfiction 'as exciting as a novel,' but that would be an understatement applied to this extraordinary family memoir. . . . Ester and Ruzya will remind you how much life, history and emotional and moral complexity the genre can convey in the hands of a wonderful writer."—The New York Times Book Review 

"Masha Gessen has written an indispensable history of Soviet Jews as seen through the eyes of two unforgettable women—her grandmothers. The scope and complexity of their characters rivals anything you will find in contemporary fiction. Their lives, underscored by hardship, compromise and hope, are rendered both with a granddaughter's love and a journalist's insight. A beautiful book."—Gary Shteyngart, author of Super Sad True Love Story and Little Failure

"A loving memoir of two grandmothers that offers a penetrating look at two killer regimes. Masha Gessen's wonderful book portrays human beings trying to live justly when there is virtually no way to do so."—William Taubman, Pulitzer Prize-winning author of Khrushchev: The Man and His Era 

"This blend of historical depth with personal experience is a powerful mix, illuminating how family and friendship can grow in even the darkest eras."—Publishers Weekly

"A journalist's memoir of her grandmothers also paints an eloquent portrait of two totalitarian powers, the havoc they wrought, and the countless burdens they imposed on ordinary families. . . . A masterful chronicle of dark and dangerous years, and a distinguished addition to the history of totalitarianism."—Kirkus Reviews
 
"A saga of two fascinating Russian-Jewish women making ends meet, making love, making homes, making agonizing compromises in the most terrible times of the twentieth century—witty, colorful, tragic, seething with life and character, it is a little classic of storytelling."—Simon Sebag Montefiore, author of The Romanovs: 1613-1918
 
"This is a deeply moving account of what it meant to be a Jew under Hitler's rule and, equally brutal, Stalin's rule. Masha Gessen, a talented writer with a human touch, has brilliantly used her grandmothers as a way to bring to life a grim era of East European history."—Daniel Schorr, former senior news analyst for National Public Radio

"Ester and Ruzya is an example of what's best in Russia's literary tradition—a beautifully written personal story with universal significance."—Nina Khrushcheva, Professor of International Affairs, The New School
 
"Beautifully written and deeply felt, Masha Gessen's Ester and Ruzya tells the story of the two totalitarian regimes that reigned in twentieth-century Europe from a completely fresh perspective. Gessen's description of the compromises people made to survive should force those of us living in a luckier era to think harder about what we mean by 'morality.'"—Anne Applebaum, Pulitzer Prize-winning author of Gulag: A History and Red Famine: Stalin's War on Ukraine
Dial Press Trade Paperback, 9780385336055, 384pp.
Publication Date: October 25, 2005
About the Author
Masha Gessen is a staff writer at The New Yorker and the author of several books, among them The Future Is History: How Totalitarianism Reclaimed Russia and The Man Without a Face: The Unlikely Rise of Vladimir Putin. The recipient of numerous awards, including a Guggenheim Fellowship and a Carnegie Fellowship, Gessen teaches at Amherst College and lives in New York City.