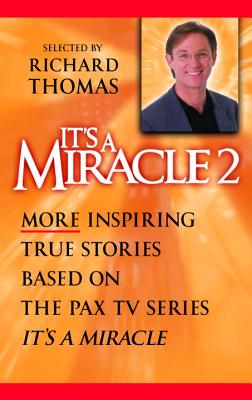 It's a Miracle 2: More Inspiring True Stories Based on the Pax TV Series, "It's a Miracle" (Paperback)
More Inspiring True Stories Based on the Pax TV Series, "It's a Miracle"
Delta, 9780385336512, 240pp.
Publication Date: April 1, 2003
* Individual store prices may vary.
or
Not Currently Available for Direct Purchase
Description
More real-life inspirational stories more everyday wonders--more answered prayers--from the TV show that has inspired millions
Astounding rescues ... divine intervention ... romantic providence. Miracles are all around us--we have only to open our minds...and our hearts. In this extraordinary second volume of real-life stories, Richard Thomas has carefully selected dozens of all-new tales from the successful PAX TV show It's a Miracle. The result is a completely new, utterly unforgettable collection--a true celebration of ordinary people transformed by extraordinary events.
A mother is reunited with the daughter she gave up for adoption twenty-seven years earlier--all because of a miraculous encounter in a nursing home... A woman whose older sister is in grave need of a liver transplant meets a man on a plane whose nephew turns out to be a perfect match... A courageous cat saves the lives of her owners in an act of love that can be described only as remarkable.
Share the healing, share the wonder of these amazing, joy-filled stories that will warm your heart and strengthen your spirit.
Advertisement