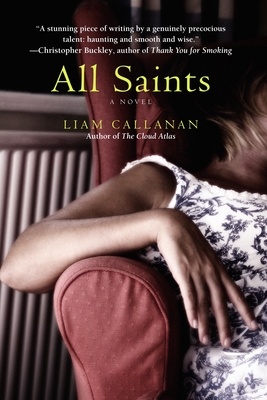 All Saints (Paperback)
Dial Press Trade Paperback, 9780385336970, 288pp.
Publication Date: March 25, 2008
* Individual store prices may vary.
Description
The acclaimed author of The Cloud Atlas returns with a wondrous second novel. Set in a small beachfront Catholic high school, narrated by a beautifully complex heroine–theology teacher Emily Hamilton–All Saints is at once a mystery, a love story, and a powerful rumination on secrets, temptation, and faith.

By life's midpoint Emily has seen three husbands, dozens of friends, and hundreds of students come and go. And now her classroom, long her refuge, is proving to be
anything but.

Though her popular, occasionally irreverent church history course is rich with stories of long-dead saints, Emily uneasily discovers that it's her own tumultuous life that fascinates certain students most. She in turn finds herself drawn into their world, their secrets, and the fateful choices they make.

A novel of mystery and illumination, calling and choice, All Saints explores lives lived in a fragile sanctuary–from Emily and her many saints to a priest facing his own mortality and a teenager tormented by desire. Told with grace and compassion, this is a spellbinding novel of provocative storytelling.
About the Author
Liam Callanan is the author of The Cloud Atlas, which was an Edgar Award finalist for best first novel. A frequent public radio essayist, his work has also appeared in the New York Times Book Review, Slate, Good Housekeeping, and elsewhere. He teaches at the University of Wisconsin—Milwaukee.
Praise For All Saints…
"A stunning piece of writing by a genuinely precocious talent: haunting and smooth and wise."—Christopher Buckley, author of Thank You for Smoking

"Liam Callanan is that rare thing, a writer adept and creative enough to inhabit the mind of character entirely different from himself. He does so completely, with absolute authenticity and emotional truth. Emily Hamilton is unapologetically acerbic and a delight to spend time with. This book is every bit as good as The Cloud Atlas, and that is saying a lot."—Ayelet Waldman, author of Love and Other Impossible Pursuits

"All Saints asks a very private question: How do you move forward in life when faced with your own failures?... The desires of the soul, the impulses of the flesh and the confines of the human condition drive the novel's story until the line dividing the saints from the sinners is blurred."—Los Angeles Times

"All Saints is a jewel of a book: bright, sharp-witted,  full of the fantastical lore of the saints and the secret yearnings of everyday American life, full of secrets and surprises.   In particular, this novel is the story of Emily Hamilton who I found myself thinking about long after I closed the book.  Missing her rueful wit and intelligence.  Realizing that I'd maybe even fallen a little in love with her.  I imagine other readers will fall for her, too—and for this book."  —Dan Chaon,  author of You Remind Me of Me

"Luminous.... Callanan gets into [his heroine's] head with page-turning panache and authority."—Publishers Weekly

"All Saints is about the mystery and danger of love, all kinds of love—so intense and funny and wise.  Emily Hamilton has such a complicated, appealing voice—at once guarded and full of passion, energy, irreverence. She is a great and serious character, a real triumph.  I couldn't put it down."—Susan Shreve, author of A Student of Living Things

"Consider this your crash course in theology."—Marie Claire

"Callanan doesn't shelter his heroine.... She speaks in a voice that is frustratingly real and endearing, bestowed with a truthful grace."—Entertainment Weekly
How did it affect your reading to know that a male author had created Emily, a pitch-perfect female narrator? How would you characterize the way she sees the world?
What was your initial understanding of Emily's revelation that she had kissed a boy, for the first time in her life, at age fifty? How did your impressions of her shift as her marriage history unfolded?
Discuss the irony of Emily's classroom topics. How do the students' oral reports, and the concept of saints and popes, contrast with the circumstances of modern life presented in the novel? How do you define "saint"?
What do the two coasts—New York and California—mean to Emily? How does she perceive the cultural differences and landscapes of these two settings? What types of dividing lines are created between the novel's two parts, Fall and Spring?
Were any of your teachers like Emily? Did Edgar, Cecily, and Paul remind you of any of your high-school classmates? What makes All Saints both an unusual and a very typical high school?
What comfort does Emily derive from Mrs. Ramirez? How does it compare to the comfort she derives from going to church, and in particular from being Catholic? Share your own experiences with mystery and faith.
Compare and contrast Emily's husbands: dear departed Andrew, Gil of the slot-machine wedding, and Gavin the priest. Is there a theme or progression? What does she expect from men by the time we meet her?
Was it right that Emily eventually took responsibility for the kiss with Edgar? Do Edgar and Emily imagine each other accurately? What power do they have over each other?
Discuss the notion of secrecy that permeates many of the characters in All Saints. Is secrecy a form of dishonesty? What role does confession (informal and otherwise) play in the novel? What does Paul's essay reveal in chapter nine?
In chapter seven, Emily unwittingly confronts Martin about his high-school sweetheart. How did you react to his response? Should he have had to take a vow of celibacy at all? Discuss the various temptations confronted by the characters in the novel.
Why doesn't Emily go to Italy with Martin? Under other circumstances, would he have made a good fourth husband? What do you predict for Emily's future? What does All Saints ultimately say about the cycles of birth and death?
What did you discover through Liam Callanan's portrayals of unusually devoted church workers, such as salty Father Junghanns, or the nuns who bore the scars of brutality in Central America?
What aspects of courage does the author paint in The Cloud Atlas and All Saints? How are heroism and humanity presented in each of these novels?
Discuss the nature of belief in All Saints. Not just spiritual belief, but also the belief people have in each other, and in the concepts of friendship, love, commitment, and forgiveness?
or
Not Currently Available for Direct Purchase