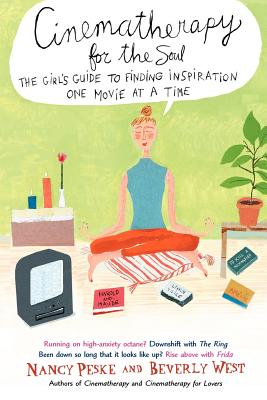 Cinematherapy for the Soul (Paperback)
Delta, 9780385337045, 240pp.
Publication Date: February 3, 2004
Description
Has your karma run over your dogma? Are you feeling anxious about the future, or wondering who turned down the dimmer switch on your inner light? The illumination you need is right at your fingertips. Settle into the lotus position, pick up your remote control, and let movies be your spiritual guide on your journey toward personal nirvana. From the bestselling duo who brought you Cinematherapy, Advanced Cinematherapy, Cinematherapy for Lovers, and Bibliotherapy comes CINEMATHERAPY FOR THE SOUL, a video guide guaranteed to help you become your own guru. With 150 new reviews of classic and contemporary movies and thoughtful quotes to uplift you, CINEMATHERAPY FOR THE SOUL is guaranteed to help you discover that the movies will reinvigorate your tired spirit and help you find inspiration, one movie at a time.
About the Author
Nancy Peske and Beverly West are best friends, identical cousins, and the coauthors of Cinematherapy for Lovers: The Girl's Guide to Finding True Love One Movie at a Time, Advanced Cinematherapy: The Girl's Guide to Finding Happiness One Movie at a Time, Cinematherapy: The Girl's Guide to Movies for Every Mood, and Bibliotherapy: The Girl's Guide to Books for Every Phase of Our Lives. They live in New York City.
Advertisement