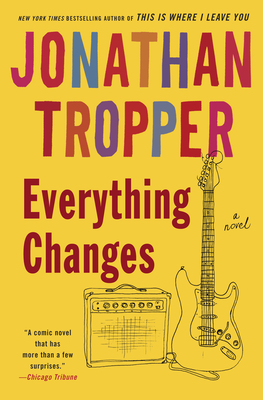 Everything Changes (Paperback)
A Novel
Bantam, 9780385337427, 352pp.
Publication Date: March 28, 2006
* Individual store prices may vary.
Description
Jonathan Tropper's novel The Book of Joe dazzled critics and readers alike with its heartfelt blend of humor and pathos. Now Tropper brings all that—and more—to an irresistible new novel. In Everything Changes, Tropper delivers a touching, wickedly funny new tale about love, loss, and the perils of a well-planned life.

To all appearances, Zachary King is a man with luck on his side. A steady, well-paying job, a rent-free Manhattan apartment, and Hope, his stunning, blue-blooded fiancée: smart, sexy, and completely out of his league. But as the wedding day looms, Zack finds himself haunted by the memory of his best friend, Rael, killed in a car wreck two years earlier—and by his increasingly complicated feelings for Tamara, the beautiful widow Rael left behind.

Then Norm—Zack's freewheeling, Viagra-popping father—resurfaces after a twenty-year absence, looking to make amends. Norm's overbearing, often outrageous efforts to reestablish ties with his sons infuriate Zack, and yet, despite twenty years of bad blood, he finds something compelling in his father's maniacal determination to transform his own life. Inspired by Norm, Zack boldly attempts to make some changes of his own, and the results are instantly calamitous. Soon fists are flying, his love life is a shambles, and his once carefully structured existence is spinning hopelessly out of control.

Charged with intelligence and razor sharp wit, Everything Changes is at once hilarious, moving, sexy, and wise—a work of transcendent storytelling from an exciting new talent.
About the Author
Jonathan Tropper is the author of Everything Changes, The Book of Joe, which was a BookSense selection, and Plan B. He lives with his wife, Elizabeth, and their children in Westchester, New York, where he teaches writing at Manhattanville College. How to Talk to a Widower was optioned by Paramount Pictures, and Everything Changes and The Book of Joe are also in development as feature films.
Praise For Everything Changes: A Novel…
"Jonathan Tropper is the new breed of novelist who writes for men and women with equal ease and grace. Everything Changes is a wonderful and engaging comic novel about the possibility of new life in the midst of emotional disaster."—-Haven Kimmel, author of The Solace of Leaving Early

"Women: Want to know how men think? Here's a smart, funny, brutally honest, much-needed guy's point of view on how messy love can be. Jonathan Tropper makes me laugh and breaks my heart at the same time." —-Lolly Winston, bestselling author of Good Grief