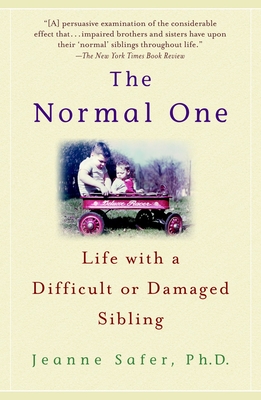 The Normal One
Life with a Difficult or Damaged Sibling
Paperback

* Individual store prices may vary.
Description
What is it like to grow up with a sibling who is difficult or damaged?

Few bonds in our lives are as psychologically and emotionally significant as the ones we share with our sisters and brothers, although little has been written about this formative relationship. In this first-of-its-kind book, psychotherapist Jeanne Safer takes us into the hidden world of problem siblings and explores the far-reaching effects on the lives of those who are considered the "normal ones."

Drawing on more than sixty interviews with normal, or intact, siblings, Safer explores the daunting challenges they face, and probes the complex feelings that can strain families and damage lives. A "normal" sibling herself, Safer chronicles her own life-shaping experiences with her troubled brother. She examines the double-edged reality of normal ones: how they both compensate for their siblings' abnormality and feel guilty for their own health and success. With both wisdom and empathy, she delineates the "Caliban Syndrome," a set of personality traits characteristic of higher-functioning siblings: premature maturity, compulsion to achieve, survivor guilt, and fear of contagion.

Essential reading for normal ones and those who love them, this landmark work offers readers insight, compassion, and tools to help resolve childhood pain. It is a profound and eye-opening examination of a subject that has too long been shrouded in darkness.
Praise For The Normal One: Life with a Difficult or Damaged Sibling…
"The Normal One provides a great service for the siblings of truly damaged individuals, those quiet, self-denying brothers and sisters who, perhaps for the first time in their lives, will recognize in Safer a passionate advocate from the world of psychotherapy, speaking out on their behalf with a deeply intelligent, fully informed, and thoroughly welcome voice."
--The New York Times Book Review

"Revelatory...an indelible, brave, profoundly sensitive, and deeply personal look at how the 'normal' half lives, loves, resents, reconciles, sometimes denies, sometimes transcends, aches for—but never quite trusts—the consolations of family."
--O Magazine

"[A] persuasive examination of the considerable effect that...impaired brothers and sisters have upon their 'normal' siblings throughout life."
--The New York Times Book Review


Delta, 9780385337564, 224pp.
Publication Date: September 30, 2003
About the Author
Jeanne Safer, PhD, is a psychotherapist who in her 40 years of private practice has tackled difficult issues that most people deem "taboo," including siblings with difficult or dysfunctional brothers and sisters, women making choices about motherhood, and adults struggling about whether to forgive people who have betrayed them. Dr. Safer is the author of Cain's Legacy, The Normal One, and Death Benefits.
or
Not Currently Available for Direct Purchase