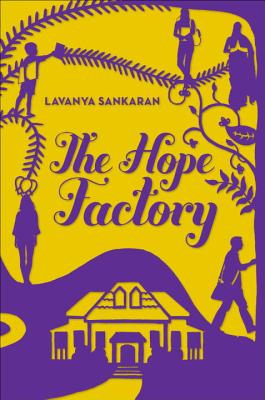 The Hope Factory (Hardcover)
Dial Press, 9780385338196, 371pp.
Publication Date: April 23, 2013
* Individual store prices may vary.
Description
With humor, intelligence, and masterly prose, Lavanya Sankaran's debut novel brilliantly captures the vitality and danger of a newly industrialized city and how it shapes the dreams and aspirations of two very different families.
 
Anand is a Bangalore success story: successful, well married, rich. At least, that's how he appears. But if his little factory is to grow, he needs land and money, and, in the New India, neither of these is easy to find.
 
Kamala, Anand's family's maid, lives perilously close to the edge of disaster. She and her clever teenage son have almost nothing, and their small hopes for self-betterment depend on the contentment of Anand's wife: a woman to whom whims come easily.
 
But Kamala's son keeps bad company, and Anand's marriage is in trouble. The murky world where crime and land and politics meet is a dangerous place for a good man, particularly one on whom the well-being of so many depends.
 
Rich with irony and compassion, Lavanya Sankaran's The Hope Factory affirms her gifts as a born storyteller with remarkable prowess, originality, and wisdom.
 
Praise for Lavanya Sankaran's The Red Carpet
 
"By the end of [the] very first story, people half a world away have been transformed into complete human beings, full of frailties and fragile self-regard, achingly sympathetic. That's why The Red Carpet reads like a revelation. . . . I recommend this book so highly!"—Carolyn See, The Washington Post
 
"Throughout these fine, articulate stories, Lavanya Sankaran brings to life the new and old social worlds of Bangalore. More important, she uses the quiet dignity of her characters to reveal what's universal in the wide rift between generations. It's an unusually elegant and nuanced portrait."—John Dalton, author of The Inverted Forest
 
"It's a pity there aren't more stories to be told in Carpet. They're so much fun."—The Dallas Morning News
 
"[An] animated debut . . . [These stories] are memorable for their subtle wit and convincing evocation of a dynamic world."—Publishers Weekly
About the Author
Lavanya Sankaran is the author of "The Red Carpet, " a collection of short stories set in Bagalore, India, that won "Poets & Writers "magazine's Best First Fiction award. Sankaran has written for "The Atlantic Monthly, The Wall Street Journal, The Times of India, "and "Outlook, " among other publications in America, India, Italy, and France. She studied at Bryn Mawr College and lives in Bangalore. "The Hope Factory" is her debut novel.
Praise For The Hope Factory…
Praise for Lavanya Sankaran's The Red Carpet
 
"By the end of [the] very first story, people half a world away have been transformed into complete human beings, full of frailties and fragile self-regard, achingly sympathetic. That's why The Red Carpet reads like a revelation. . . . I recommend this book so highly!"—Carolyn See, The Washington Post
 
"Throughout these fine, articulate stories, Lavanya Sankaran brings to life the new and old social worlds of Bangalore. More important, she uses the quiet dignity of her characters to reveal what's universal in the wide rift between generations. It's an unusually elegant and nuanced portrait."—John Dalton, author of The Inverted Forest
 
"It's a pity there aren't more stories to be told in Carpet. They're so much fun."—The Dallas Morning News
 
"[An] animated debut . . . [These stories] are memorable for their subtle wit and convincing evocation of a dynamic world."—Publishers Weekly
or
Not Currently Available for Direct Purchase