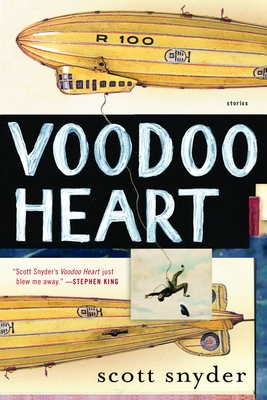 Voodoo Heart (Paperback)
Stories
Dial Press Trade Paperback, 9780385338424, 288pp.
Publication Date: May 29, 2007
Other Editions of This Title:
MP3 CD (3/1/2017)
MP3 CD (11/3/2015)
* Individual store prices may vary.
Description
Scott Snyder's protagonists inhabit a playfully deranged fictional world in which a Wall Street trader can find himself armed with a speargun, guarding a Dumpster outside a pawnshop in Florida; or an employee at Niagara Falls (his job: watching for jumpers) will take off in a car after a blimp in which his girlfriend has escaped. But in Snyder's wondrous imagination there's a thin membrane between the whimsical and the disturbing: the unlikely affair between a famous actress—in hiding after surgery—and a sporting goods salesman takes an ominous turn just as she begins to heal; an engaged couple's relationship is fractured when one of them becomes obsessed with an inmate at the women's prison next door.

Dark, funny, powerful, this debut collection underscores the remarkable gifts of a fiercely original young writer.
About the Author
Scott Snyder has been published in Zoetrope, One Story, Tin House, Epoch, and other journals. He teaches at Columbia University and lives in New York.
Praise For Voodoo Heart: Stories…
"Scott Snyder's Voodoo Heart just blew me away. These dispatches from disaffected but strangely likeable American oddities have much the same effect as good American roots music: their simplicity is deceptive, their emotional power considerable. And at some point between the mystery-blimp of Blue Yodel and the World War I-era Curtis Jenny of The Star Attraction of 1919, you may discover that Snyder's plain folks have stolen your heart. I think what impressed me most about these stories—even the ones in which terrible things happen—was their warmth and humanity. Even when his characters are at their worst, Scott Snyder never abandons them. These are stories that welcome the reader in, and fully reward his interest. Sometimes horrifying, often absurd, full of characters afraid to commit (and who sometimes commit anyway), this is a debut worthy of T. Coraghessan Boyle's If The River Was Whiskey. I couldn't put it down."—Stephen King

"The dialogue is snappy, the characters sharp, and the story lines consuming...Snyder is masterful, and the fact that he draws on uniquely American symbols, stories, and songs makes Voodoo Heart outstanding and unusual, and a spectacular debut."—Booklist, starred review

"Accomplished...Suffused with sly humor, sympathy and high spirits, the stories in Voodoo Heart are giddy with the thrill of discovering what can be done with words, what you can make happen on the page. The result is as irreducible and rewarding as making playing cards disappear or pulling gold coins out of thin air."—Publishers Weekly, starred review

"Sometimes dark, other times sweet, and filled with wonder, these delightful stories might seem transcribed from a further world. Voodoo Heart, like Scott Snyder, is a real find."—Rick Bass

"Each story in Scott Snyder's Voodoo Heart is as mournful and beautiful and haunting as a Hank Williams song, or a Buster Keaton movie, or a dream you have on the edge of sleep: vivid, insistent, funny, strange, heartbreaking all at the same time, full of odd, doomed love, and unforgettable."—Elizabeth McCracken, author of The Giant's House