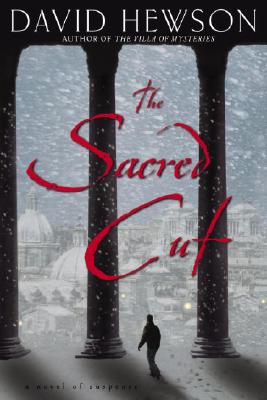 The Sacred Cut (Hardcover)
Delacorte Press, 9780385338493, 352pp.
Publication Date: December 27, 2005
* Individual store prices may vary.
Description
The snow is falling on the ancient streets of Rome. And in the heart of the city, under the Pantheon's great dome, a woman's body lies on the marble floor, carefully positioned with a gruesome carving on her back....In David Hewson's ingenious new thriller, this horrific murder hurtles Rome's police force into a collision with U.S. agents–and a secret that has festered for fifteen years, now unraveling in the world's most enigmatic city.

When Detective Nic Costa arrives at the scene, he is unprepared for what he finds, or for the ambush that leaves his only witness vanished into the night. The dead woman was American. Within hours, U.S. agents descend with a take-no-prisoners style and a shocking story to tell: the killer has struck before, in monuments all over the world, leaving the same cryptic message carved onto the bodies of the victims.

But one agent, beautiful, blond Emily Deacon, has yet another story to tell Nic–about a stunning act of deception that may lead back to the U.S. government, and her own chilling, personal connection to the killer. Now, as the first murder leads to more grisly slayings and a motley crew of veteran Roman cops jousts with the Americans, Nic is pulled into a woman's harrowing search for the truth…a search that will take them both into the mind of a madman, into a shocking conspiracy–and into a dark episode in a nation's long-forgotten past.

From its haunting opening to its nerve-shattering climax, The Sacred Cut defies all our expectations, proving once again the unique and compelling genius of David Hewson.
About the Author
David Hewson is the author of several travel books and seven novels, including The Villa of Mysteries, A Season for the Dead, and Lucifer's Shadow, which are available from Dell. A weekly columnist for the Sunday Times, he lives in Kent, England, where he is at work on the next Nic Costa thriller, The Lizard's Bite, coming from Delacorte Press in 2007.
Praise For The Sacred Cut…
"Refreshing.... fully satisfying."—Detroit Free Press

"A fast-paced procedural."—The Sacramento Bee

"Hewson is as adroit as ever in the crafting and characterizations in his tale."—Rocky Mountain News

"Hewson's literate prose, bolstered by local color and historical tidbits, makes for top-flight entertainment."—Kirkus Reviews

"Hewson's solid writing and multidimensional characters command attention from start to finish of this smart, literate thriller.... Elegant."—Publishers Weekly
or
Not Currently Available for Direct Purchase