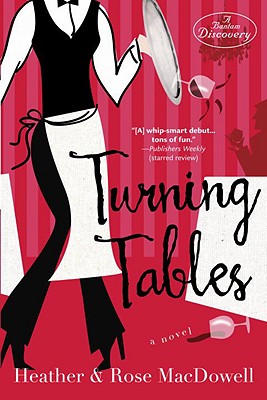 Turning Tables (Paperback)
Bantam Discovery, 9780385338554, 336pp.
Publication Date: March 24, 2009
* Individual store prices may vary.
or
Not Currently Available for Direct Purchase
Description
Erin Edwards is an up-and-coming marketing exec who frequents New York's hippest eateries—until the tables are turned. Now, newly unemployed, Erin only has days to transform herself into a first-class server at Roulette, one of Manhattan's top restaurants. Can she make it in a world where survival is all about . . .

But life behind the apron is even worse than Erin imagined—within days she finds herself in hot water with Roulette's egomaniacal celebrity chef and the owner's outrageous wife. And then there's the surly, dismissive clientele—all but Daniel Fratelli, the flirtatious TV news producer who may just be as nice as he seems. Determined not to crack under pressure, Erin sets out to master the art of waitressing—becoming part shrink, part slave, and part foie gras pusher. It seems like she'll be hustling for that twenty percent for the rest of her life, until her quirky best friend comes up with the perfect recipe for success—or a second course of disaster.

In this smart, sexy, and wickedly observant novel, identical twins and onetime real-life waitresses Heather and Rose MacDowell bring a deliciously tart verisimilitude to this story of a young woman's adventures at Manhattan's most exclusive new haunt.
About the Author
Heather and Rose MacDowell are identical twins who have waited tables in some of the best (and worst) restaurants in Manhattan, Nantucket, and San Francisco. Today they live on opposite coasts and write by email and phone. They dine out frequently and are big tippers. "From the Hardcover edition."
Praise For Turning Tables…
"Turning Tables is tons of fun! Heather and Rose MacDowell's twin voices blend seamlessly to create a delectable fusion of humor, heart, hope and keen observation—peppered liberally with some great waitress horror stories." –Claire Cook, author of Life's a Beach and Must Love Dogs

"Turning Tables is like a top chef's tasting menu, offering one delight after another with plenty of delicious surprises along the way."—Claire LaZebnik, author of Knitting Under the Influence and Same as it Never Was

"Heather and Rose MacDowell's debut novel, Turning Tables, is a hilarious read which rings true. It's the perfect book for anyone who's ever been forced to take orders..." —Leanne Shear and Tracey Toomey, authors of The Perfect Manhattan and Cocktail Therapy

"A spirited debut…. The setting sparkles."—Kirkus Reviews

"This page-turner ... is tons of fun, especially for those who've done time in the service industry."—Publishers Weekly, starred review

"Turning Tables is full of factual insights for curious foodies."—Sacramento Bee

"A hilarious read that rings true. It's the perfect book for anyone who's ever been forced to take orders." —Leanne Shear and Tracey Toomey, authors of Lipstick Therapy

"Entertaining . . . ought to be required reading for restaurant reviewers and lousy tippers." —Boston Globe

How has Turning Tables changed your perception of fine dining and celebrity chefs? Describe the most extravagant meal you've ever eaten. How did it compare to a night at Roulette?
What keeps Erin from quitting sooner? Is it just the money that motivates her to endure the job longer than so many other new hires have in the past? How long would you have lasted as an employee at Roulette?
How do the power structures at Roulette compare to those at most workplaces? How is status achieved in the restaurant's kitchen, versus in the "front of the house?"
What is Rocket's role in Erin's life? What traits and life experiences do she and her dog share? In what ways do Fritz and Rocket play matchmaker, expressing what Erin and Daniel aren't able to tell each other?
What was Erin hoping to get out of her semi-relationship with Phil? What were the plusses and minuses of sleeping with him? How did your opinion of him shift throughout the novel, especially after he proved to be a cranky restaurant customer?
Discuss the power of publicity captured in the scenes featuring Evelyn Harker. What does it take for anything–a restaurant, a clothing line, a vacation spot–to become trendy? When does the tipping point occur? How do critics such as Harker rise to the top of their game and develop the ability to decide the fate of a product, or a person?
Did Erin's upbringing prepare her for Roulette? How did she feel about her family before and after their visit to Roulette? Did her father do the right thing by helping her snag such a lucrative waitressing job?
What did Cato teach you about the art of persuasion? How could his approach to waiting tables apply to other aspects of life that call for assertiveness and an in-depth understanding of the "audience?"
Discuss the food and wine described throughout the novel. Which selections sounded sublime? Which ingredients seemed outrageous? Does the hyper-competitive world of haute cuisine enhance or overwhelm America's palate?
Were you surprised by the amount of money Erin and the other servers made in a night? Would their strategies for taking control of the ordering process seduce you into running up a bigger tab?
How would you characterize Daniel? What makes him a special guy? Why did he tolerate Sonia? What was at the heart of Erin's anger after Daniel took her to the ill-fated party?
How do Erin's college friend Rachel and restaurant friend Cato complement each other? What is the dynamic in each of those friendships? In what way are they different?
What motivates Erin to make such a bold move in the closing scenes? By the end of the novel, how has she changed? Would you have taken the job with Design Refined, stayed with Roulette, or opened your own business?
Between them, the authors have almost fifteen years of experience waiting tables. How do you think their background made writing the novel easier than it would have been for those less seasoned? How would it make it harder?
Describe the worst boss and the worst job you ever had. Is it true that a boss must be as demanding as Carl in order to earn respect? Is there any job you would not take, no matter how precarious your financial situation became?
Advertisement