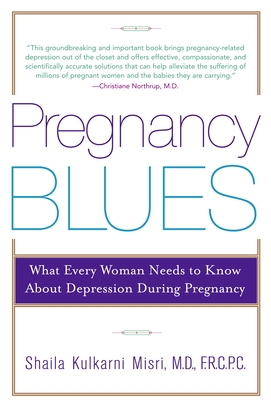 Pregnancy Blues: What Every Woman Needs to Know about Depression During Pregnancy (Paperback)
What Every Woman Needs to Know about Depression During Pregnancy
Delta, 9780385338677, 310pp.
Publication Date: September 26, 2006
Description
It should be a time of joyous anticipation the happiest time in a woman's life. But for many women, the joys of pregnancy are clouded by feelings of fear, sadness, and confusion. And unlike postpartum depression, which is widely portrayed in the media and embraced by the medical community, depression during pregnancy has been rarely discussed and often misunderstood until now. In this groundbreaking book the first to focus exclusively on depression in pregnancy Dr. Shaila Kulkarni Misri, a leading reproductive psychiatrist, draws on her twenty-five years of clinical practice and research to offer hope, help, and healing as well as a provocative, myth-shattering examination of a subject that has too long been shrouded in darkness.
The numbers are surprising: up to 70 percent of pregnant women experience some degree of depressive symptoms, and of those, 12 percent meet the diagnostic criteria for major depression. Although it is at least as common as postpartum depression, which occurs after a child's birth, pregnancy-related depression is often cloaked in silence, shame, and denial. Pregnancy Blues lifts the veil on this heartbreaking and very treatable
illness, examining the key social and biological factors that can come together during pregnancy to create a climate in which depression and anxiety thrive, as well as offering the many effective treatments that are available. Discover:
How to recognize the signs and symptoms of depression and know when to seek help
The role of female hormones: why women are more vulnerable to depression than men
How depression can hide behind physical complaints, such as back, stomach, or even chest pain
The unspoken connection between infertility and depression
The antidepressant controversy: the facts on specific drugs, their safety and when medication is the right choice
Breastfeeding and medication the risks and benefits
Plus helpful self-tests and resources, information on alternative treatment options from therapy to acupuncture and much more. A work of daring and compassion,
Pregnancy Blues
challenges the underlying traditions and beliefs surrounding pregnancy and motherhood and explores how those misconceptions have led to the drastic underdiagnosis and undertreatment of depression during pregnancy. A must-read for women and those who love them,
Pregnancy Blues
is at once an extraordinary roadmap to healing and an eye-opening report on a medical issue that no woman can afford to miss.
From the Hardcover edition.
About the Author
Shaila Kulkarni Misri, MD, Frcpc, is one of the leading reproductive psychiatrists in North America and is internationally recognized as a pioneer in women s mental health and reproductive issues. She is the founder and director of Reproductive Mental Health at both St. Paul s Hospital and BC Women s Hospital & Health Centre in Vancouver, and Clinical Professor of Psychiatry and Obstetrics and Gynecology at the University of British Columbia, Canada."
Praise For Pregnancy Blues: What Every Woman Needs to Know about Depression During Pregnancy…
"This groundbreaking and important book brings pregnancy-related depression out of the closet and offers effective, compassionate, and scientifically accurate solutions that can help alleviate the suffering of millions of pregnant women and the babies they are carrying."
--Christiane Northrup, M.D.
Advertisement