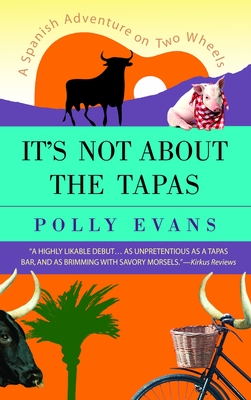 It's Not about the Tapas: A Spanish Adventure on Two Wheels (Paperback)
A Spanish Adventure on Two Wheels
Delta, 9780385339926, 284pp.
Publication Date: June 27, 2006
Description
Single, stressed, and living amid the hustle and hurry of modern Hong Kong, Polly Evans had a vision: of mountains and orange groves, matadors and promenades and of a glorious, hassle-free journey across Spain by bicycle. But like any decent dream, Polly's came with its own reality: of thighs screaming with pain and goats trying to derail her, of strange local delicacies and overzealous suitors. In fact, like any great traveler, Polly had bitten off more than she could chew and would delight in every last taste of it.
Exploring the country that gave the world flamenco, chocolate, sherry, Franco, and Picasso, Polly takes us from the towering Pyrenees to the vineyards of Jerez de la Frontera, spinning tales of conquistadors and kings, vibrant history and mouthwatering cuisine. In the end, this hilarious, irreverent, always engaging memoir of a journey on two wheels unveils a lot about one modern woman, even more about an utterly fascinating nation, and countless reasons why it's better when you do it on a bike.
About the Author
Polly Evans studied modern languages at Cambridge University, where she learned a little about Spanish and a little more about men. The hours of hard research she poured into these two subjects, plus a four-year stint at Hong Kong's largest weekly magazine, inspired her first three books, including Fried Eggs with Chopsticks and Kiwis Might Fly, both forthcoming from Dell. Polly now lives in London, where she is at work on the tale of her attempts to learn to ride in horse-mad Argentina.
Praise For It's Not about the Tapas: A Spanish Adventure on Two Wheels…
"Fast-paced but reflective."—People Magazine

"Cheeky.… I'd never let Evans plan a trip for me, but I found myself more than willing to go along for the ride. … Evans' derisive wit … is in the best British tradition of xenophobic sarcasm, parliamentary put-downs and Monty Python moments."—The Literate Traveler in San Francisco Chronicle
Advertisement